Acasti Pharmaceuticals update – market finally wakes up to the potential implications of Phase 3 trials of CaPre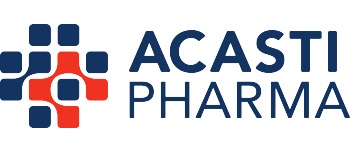 It has been quite the month for holders of Acasti Pharmaceuticals as the chart below pays testimony to. The stock has risen from just over $1 to a peak of $2.50 in recent days. Full background coverage by us can be found on the stock HERE. Acasti is one of our largest positions and was included in our top picks for the year being recommended at 69c. With an in excess of three fold return now what to do next?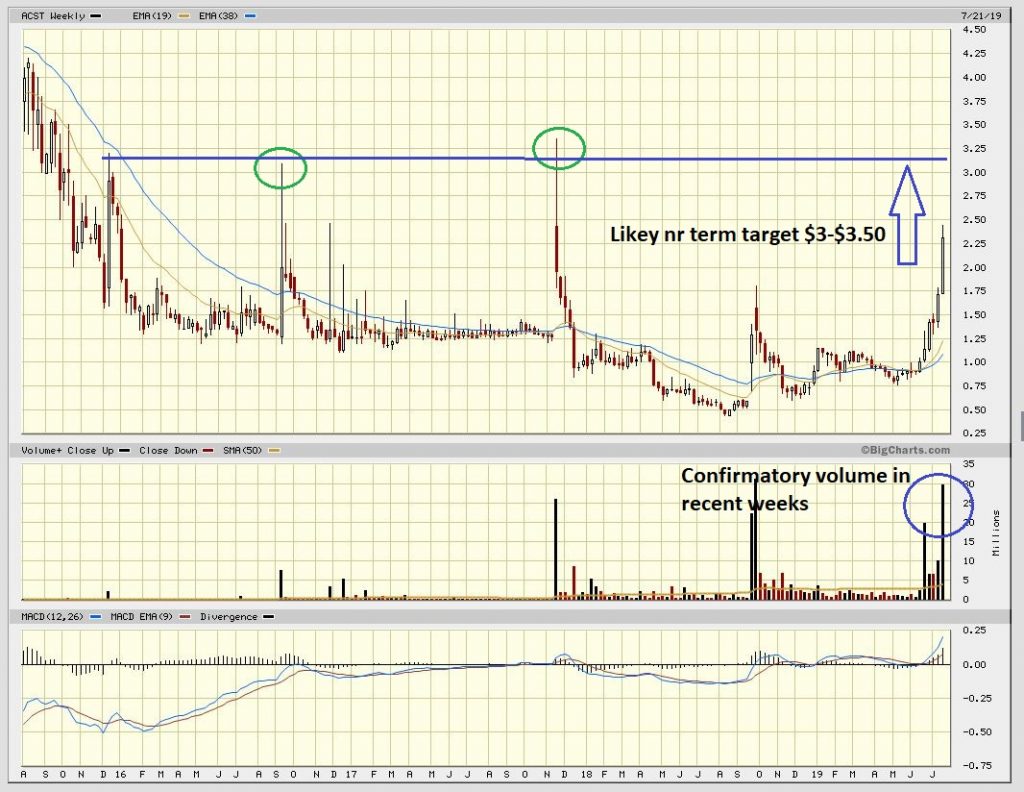 Firstly, the "catalysts" behind the recent rise have been two in-depth notes by H.C. Wainwright Research and Oppenheimer with price targets of $6 and $7 respectively. It is important to realise that these price targets were initial risk weighted ones ahead of the all important Phase III trial results for their primary product CaPre which uses a proprietary formulation of krill oil to lower Tryglicerides (a key element in the production of cholesterol). Should the results of these trials confirm the hoped for basis as "best in class" then some commentators see a market cap running to $5bn+ (the key comparable being Amarin). This would, incredibly, equate to a stock price of $63.
It is tempting to take the profits and run on this recent move given sharp rises before that we can see in the chart that were given back in the subsequent months but, following this element from the statement last week by Acasti – "The Company also reaffirmed it has no current plans to raise capital and management believes Acasti is sufficiently capitalized beyond completion of the Phase 3 trials." management have taken away the primary reason to do this – namely there is no dilutory raise on the near horizon.
Secondly, approx 20% of the float is now held by seasoned investors and industry specialists George Haywood, Edelmann and Acuitas (the latter holding in excess of 10% alone – 8.65m – and being locked in for 6 months per SEC rules). This is very important on 2 counts – firstly, it reduces the number of shares in issue for trading, placing them in "sticky" hands and secondly, the fact that industry specialists have bought in to this degree should send a very loud signal to the wider market as to their confidence in the Phase 3 results due end Dec and Jan 2020. HERE is a particularly insightful piece on the hoped for efficacy of Capre relative to Vascepa and the reiteration of the expectation of Acasti's product becoming best in class. 
Acasti's main competitor in this space is Amarin with its Vascepa product (see HERE recent commentary as to the positive effects ref heart disease and strokes). Following the positive Reduce-IT study last September 2018 the shares increased from just under $3 to over $23 inside of weeks. It is noteworthy that Amarin announced a $400m secondary offering 2 wks ago, in part we expect for strategic acquisitions. It makes a great deal of sense for Amarin to use some of these proceeds to either buy shares in Acasti in the market as a hedge or to approach ACST management with regards to making a strategic investment – likely at a significant premium to the current stock price. It would in fact be a gross dereliction of duty on the part of Amarin's management we believe given the massive current discrepancy in valuation with Acasti if they did not hedge against the possibility of CaPre becoming best in class and ultimately usurping Vascepa.
HERE is a good video of CEO Jan D'alvise in which she explains concisely the market opportunity of CaPre and potential follow through market opportunities for diabetes too.
To conclude, the chart looks like we could run in the days/weeks ahead to the old highs around $3.50. Thereafter, absent further catalysts such as intended licensing deals, we would expect the stock to consolidate during the balance of the summer into the autumn where after we anticipate renewed speculation on the outcome of the Phase 3 trials as we run towards Christmas and the New Year results release. We would not be surprised to see the shares trade north of $5 and towards Wainwright's and Oppenheimers blended price target of $6.50 on the run to this. We draw attention to the comment from Chief Commercial Officer James Groch during the company's earnings call in late June where he stated "we've had really good partnering discussions across the globe. I can't comment beyond that, really, other than to say we're moving forward, we've had good interest and we're really looking for the perfect partner that will allow us to maximize the potential of the product for Capre and for shareholders" Just one of these being announced would likely turbo-boost the stock.
There is all still to play for here and at the current market cap of just $200m, we believe the stock is still woefully undercapitalising the opportunity and prize at hand. We sense that now the stock is now firmly on the radar of a number of institutional investors looking to buy in with the story becoming more widely disseminated and this recent modest re-rate has much more to go. Buy.
RISK WARNING & DISCLAIMER
Align Research own shares in Acasti Pharma. Full details of our Company & Personal Account Dealing Policy can be found on our website http://www.alignresearch.co.uk/legal/
This is a marketing communication and cannot be considered independent research. Nothing in this report should be construed as advice, an offer, or the solicitation of an offer to buy or sell securities by us. As we have no knowledge of your individual situation and circumstances the investment(s) covered may not be suitable for you. You should not make any investment decision without consulting a fully qualified financial advisor.
Your capital is at risk by investing in securities and the income from them may fluctuate. Past performance is not necessarily a guide to future performance and forecasts are not a reliable indicator of future results. The marketability of some of the companies we cover is limited and you may have difficulty buying or selling in volume. Additionally, given the smaller capitalisation bias of our coverage, the companies we cover should be considered as high risk.
This financial promotion has been approved by Align Research Limited.