ACASTI Pharmaceuticals – countdown is on to Phase (3) trial results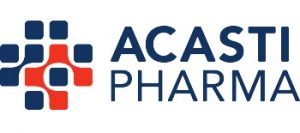 We have written extensively about Acasti Pharma per HERE and it has been one of our most successful trades this year – we are effectively now "in for free" (always the best position to be in emotionally) following the near 6 fold increase from lows below 50c to near $3 at the peak in mid summer. Accordingly, in adhering to our tried and tested risk management approach we took profits. The best however may yet be about to be delivered.
The company's key product – Capre – which uses a proprietary mix of krill oil and other ingredients to treat essentially raised cholesterol is closing in on the topline random trial results which are due in December for the first stage and January 2020 for the final set. Per the slide below we can see that the benefits of this drug appear to position it, subject to the Phase (3) trial results, as potentially best in class. With its main peer being Amarin and that has a market cap of near $6bn, set against a current market cap of just over $200m for Acasti and an end market that could run to over $2bn in sales for the US alone with this product class in 2020, it is plain to see the prize at hand if results confirm management expectations.

The slide below illustrates the size of the global market and expectations are that the company will pursue deployment of sales in the US and Canada in their own capacity and partner with other drug companies/distributors overseas with Asia being a particularly attractive market for Capre given the high prevalence of hypertriglyceridemia for many people there. Our own view is that should the results confirm hopes then the company will be taken over in pretty short order by one of a number of competitors with Amarin's name squarely in the frame. There would thus be a likely double pop for shareholders – validation of Capre and sales expectation and takeover speculation in the stock price.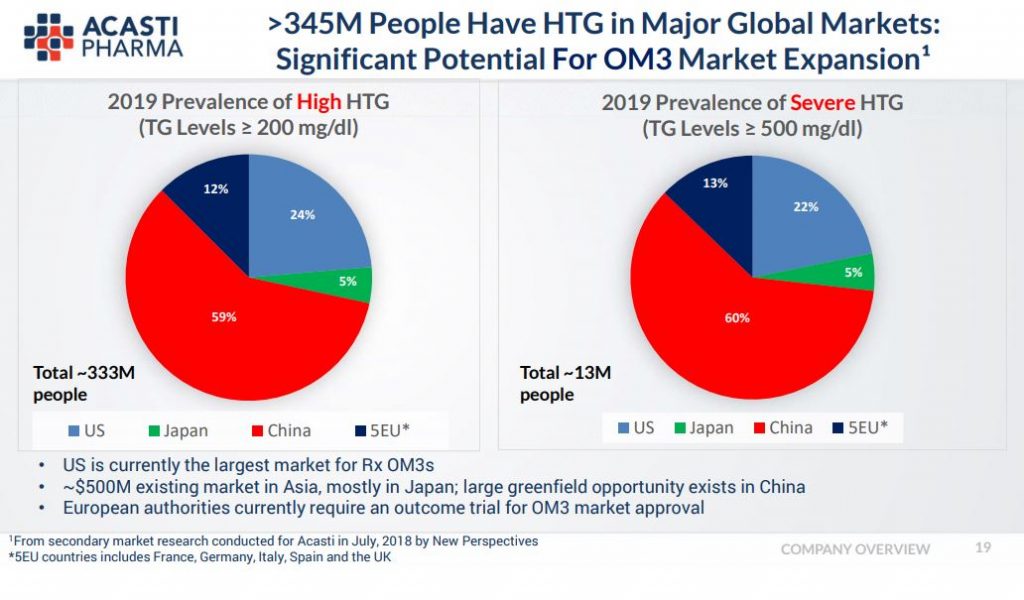 The company has confirmed its fully funded status following raises earlier in the year and so we would expect that any subsequent raise will be post the results of the trial. This takes away the fear of a dilutory raise on the approach to the results.
A number of analysts have price targets running towards $10 for the stock. Considering that Amarin ran from $2 before their Vascepa results last year to over $20, post these results, this target could actually prove conservative we believe. As the countdown now commences with mere weeks until Phase 3 results release, for those that have not positioned themselves for this ride the recent weakness in the stock price provides an opportunity to get on board. We do caution however that this is high risk/high reward and that should the results disappoint the stock is likely to fall back to 50c or below.
RISK WARNING & DISCLAIMER
Align Research & a director of Align Research own shares in Acasti Pharma. Full details of our Company & Personal Account Dealing Policy can be found on our website http://www.alignresearch.co.uk/legal/
This is a marketing communication and cannot be considered independent research. Nothing in this report should be construed as advice, an offer, or the solicitation of an offer to buy or sell securities by us. As we have no knowledge of your individual situation and circumstances the investment(s) covered may not be suitable for you. You should not make any investment decision without consulting a fully qualified financial advisor.
Your capital is at risk by investing in securities and the income from them may fluctuate. Past performance is not necessarily a guide to future performance and forecasts are not a reliable indicator of future results. The marketability of some of the companies we cover is limited and you may have difficulty buying or selling in volume. Additionally, given the smaller capitalisation bias of our coverage, the companies we cover should be considered as high risk.
This financial promotion has been approved by Align Research Limited.