Game changing news for Ironveld shares with IIG landing on the share register. Buy.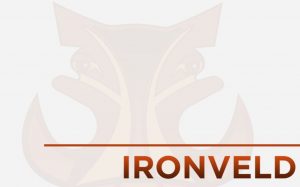 This morning investors have been treated to a cracking announcement from Ironveld which looks set to change the whole basis on which this company is valued. The stock market had fallen out of love with Ironveld and its high purity iron, vanadium and titanium project in South Africa. There seemed to have been little progress with rapidly dwindling funds and which was reflected in the share price – valuing the company at little more than a shell.
Well, in one fell swoop, all that negativity could be about to be consigned to history. Ironveld has today announced a new strategic partnership with Inclusive Investment Group (IIG) of SA which will see circa £2.7 million being invested in the company with IIG taking a 36% stake. In this move, IIG will become Ironveld's largest shareholder, providing expertise and using its extensive proven African connections to secure the larger scale funding required by Ironveld to develop its near-term high purity iron, vanadium and titanium project.
IIG is an investment vehicle founded by Mcebisi Jonas and Monwabisi Twantwa in South Africa and is positioned at the forefront of securing development for South Africa's coming wave of battery and strategic metals projects. Mcebisi Jonas is the current Chairperson of the pure-play emerging markets mobile telecommunications group MTN and importantly was a former Deputy Finance Minister of the Government of South Africa from 2014-16.
The total funding agreed to be provided by IGG of £2.7 million is made up of £1.85 million in equity at 0.42p per share and a £840,000 loan. Following completion of the subscription and the issue £534,000 worth of shares also at 0.42p issued to the board to cover back pay, IIG with its 36% stake will become Ironveld's largest shareholder and rising to 46.8% should Ironveld convert their loan and interest into equity within the next 24 months.
For those not in the know, Ironveld has a hugely exciting asset. The company is involved in an undeveloped and unique project located on the Northern Limb of South Africa's Bushveld Complex. The project has a JORC-compliant resource of 56.3Mt grading at 68.6% Fe2O3, 14.7% TiO2 and 1.12% V2O5. Apparently, it's the first project in that country which is capable of producing three economic revenue streams which are high purity iron, vanadium and titanium; and already offtake partners have been secured.
Back in 2017 Ironveld was pursuing an opportunity to acquire an existing 7.5MW smelter which could be in production and generating an early cash flow within 12 months, (including a 6-month programme of refurbishment). A quick start looks possible if Ironveld can resurrect this deal with their new partners. It might be quite small scale but could be highly profitable with open pit mining using a simple truck and shovel operation.
In the medium term however there is the opportunity to construct a new 15MW smelter which would allow mining and production to double, that's Phase 2. Importantly, the 7.5MW smelter plan allows for proof of concept ahead of building its own 15MW smelter. There is no doubt that robust cash flows support efficient financing of project development. This is just the start though as the long-term objective (Phase 3) is to add four 75MW smelters to process the large resource at the project.
In the worst case, Ironveld now has funds in place to keep the company going for two years. We believe that there is a far rosier future however, and that this announcement today just marks the first step in what could see a huge transformation of the group. In retrospect, COVID-19 might be seen to have ushered in a bargain hunting period for the juniors with available funds and Ironveld now clearly joins that club.
In the current market, the committed funds announced today could go a long way in South Africa and Ironveld shareholders could really start to benefit once Mcebisi Jonas and Monwabisi Twantwa begin to bring their powerful African connections into play. We can envisage this new partnership potentially providing the ability to successfully acquire the 7.5MW smelter. We suspect that this pair of highly successful businessmen ultimately have larger plans for this quoted entity with a clear South African focus.
We are in the midst of putting together an initial coverage research report on Ironveld which we believe will make for a compelling investing proposition highlighting the sort of valuation that Ironveld could possibly achieving moving forward. It is early days in new CEO Martin Eales' tenure at the helm of the ship but if this RNS is anything to go by we expect shareholders can expect big progress as we move through 2020 int 2021. Buy.
RISK WARNING & DISCLAIMER
Ironveld  is a research client of Align Research. Align Research owns shares in Ironveld  and is bound to the company's dealing policy ensuring open and adequate disclosure. Full details can be found on our website here ("Legals").
This is a marketing communication and cannot be considered independent research. Nothing in this report should be construed as advice, an offer, or the solicitation of an offer to buy or sell securities by us. As we have no knowledge of your individual situation and circumstances the investment(s) covered may not be suitable for you. You should not make any investment decision without consulting a fully qualified financial advisor.
Your capital is at risk by investing in securities and the income from them may fluctuate. Past performance is not necessarily a guide to future performance and forecasts are not a reliable indicator of future results. The marketability of some of the companies we cover is limited and you may have difficulty buying or selling in volume. Additionally, given the smaller capitalisation bias of our coverage, the companies we cover should be considered as high risk.
This financial promotion has been approved by Align Research Limited