ITM Power – Trading momentum drives confidence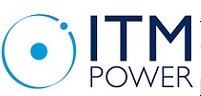 By Richard Gill, CFA
Since our last update on the company at the end of February the renewable energy specialist ITM Power (ITM) has continued to make good progress in monetising its industry leading suite of products. According to a trading update released on 18th April, ITM currently has £22.64 million of projects under contract across the business and a further £1.72 million worth of contracts in the final stages of negotiation, making a total pipeline of £24.36 million. Demonstrating the strong momentum being seen, projects under contract have risen by £5.66 million in the last 11 weeks alone.
Power-to-Gas division accelerates electrolyser sales
On 27th March ITM announced the sale of a 0.5MW electrolyser and some associated hydrogen energy equipment, for £0.73 million. While no further details were announced on this contract ITM further impressed the markets a week later by revealing the signing of a £3.5 million contract for the deployment of 3MW of electrolyser, again with some associated hydrogen energy equipment. This funding has been awarded by government innovation agency Innovate UK under its First of a Kind Phase 2 scheme. The project, known as MEGASTACK, will see affordable transport fuel created from ITM's technology and then used to fuel a fleet of at least 20 hydrogen buses. Partners on the deal include Birmingham City Council and National Express. Full details can be found HERE
We note the combined 3.5MW of electrolysis equipment contracted in the first quarter of calendar 2017 compares to 5.25MW contracted in the whole of 2016, putting the company on a sound footing to meet our forecasts for the current and 2018 financial years. Indeed based on the current momentum we anticipate an upgrading of our numbers and finally a moving into positive cash flow and EPS likely in 2018.
Further, in our last note on ITM we highlighted the planned scaling up of its electrolysis equipment, which will enable it to serve larger markets. While the bulk of customer enquiries continue to be for 0.3MW to 6MW systems, often including ancillary hydrogen energy systems and after sales support contracts, the company is increasingly receiving enquiries from multinational entities for significantly larger platforms and for a broader range of applications. Recently developed 100MW designs will be showcased at the upcoming industry conference, Hannover Messe, at the end of April.
Progress in clean fuel continues, buoyed by increasing government support
In the Clean Fuel division, which provides infrastructure, such as hydrogen generation and fuelling equipment, further progress has been made in the pursuit of opening further hydrogen refuelling stations (HRSs) around the country – the current low number of fuelling stations in the UK remains a key barrier to overcome before mass take up of hydrogen powered vehicles is realised.
Adding to the four sites in the UK which have already been delivered ITM now has 7 under contract. Additional sites for HRSs have been identified, including in London and around the M25; along the M1 Corridor including Leeds; and along the M40 Corridor including Oxford and along the M4 including Bristol and Cardiff.
The table below summarises the current status of ITM's hydrogen refueling station roll-out programme.
| | | | | |
| --- | --- | --- | --- | --- |
| Project | Location | Dispenser | Build Status | Delivery |
| M1 | Rotherham | 350/700 | Operational | Delivered |
| Riverside | USA | 700 | Operational | Delivered |
| HyFive 1 | NPL – Teddington | 350/700 | Operational | Delivered |
| HyFive 2 | CEME – Rainham | 350/700 | Operational | Delivered |
| HyFive 3 | Shell Cobham | 350/700 | Operational | Delivered |
| Big Hit | Orkney | 350 | In design | 2017 |
| H2ME | Shell Beaconsfield | 350/700 | In build | 2017 |
| H2ME | Shell Gatwick | 350/700 | In build | 2017 |
| H2ME2 1 | Swindon | 350/700 | Contract | 2017 |
| H2ME2 2 | Birmingham | 350/700 | Contract | 2018 |
| H2ME2 3 | TBC | 350/700 | Contract | 2018 |
| MEHRLIN | Birmingham Buses | 350 | Contract | 2018 |
Source: ITM Power/Align Research
The favourable industry backdrop for the Clean Fuel division continues, with the UK government recently enhancing its support for the development of the country's hydrogen fuel infrastructure in order to expand the use of renewable fuels and to combat carbon emissions.
On that note, the Office of Low Emission Vehicles (OLEV) recently announced that a new £23 million fund is being created to accelerate the take up of hydrogen vehicles and infrastructure. The fund will enable hydrogen fuel providers (such as ITM) to bid for funding in partnership with hydrogen vehicle makers. A competition will be launched this summer, inviting proposals from public organisations, businesses and hydrogen operators, with the government providing match funding for successful bidders.
This latest funding scheme is in line with the government's "ambition" for almost all new cars and vans to be zero emission by 2040. The Department for Transport has previously announced that it will provide £600 million to support the uptake of ultra-low emission vehicles between 2015 and 2020, with £100 million of this being allocated to hydrogen infrastructure, with an additional £390 million announced at last year's Autumn Statement for ultra-low emission vehicles and driverless cars.
Regardless of the outcome of the upcoming general election we see no change in the government's attitude towards this policy.
Air pollution and carbon emissions continue to be problems for many cities in the UK, with hydrogen powered vehicles attractive as they have a number of advantages over traditional petrol fuelled vehicles, producing no carbon emissions or air pollution and having a range of several hundred miles. They can be refuelled in just three minutes, much less than the several hours it takes to recharge an electric plug-in vehicle.
Valuation maintained. Shares remain significantly undervalued
We have been impressed with the string of positive news from ITM recently, with the current total pipeline of £24.36 million being at record levels. The following chart demonstrates the progress that the company has made with its contract pipeline since the start of the 2015 financial year (remember that the pipeline figures do go down when projects are delivered and revenues recognised in the accounts). The funds raised in the recent placing put the company in a strong position to deliver on this order book.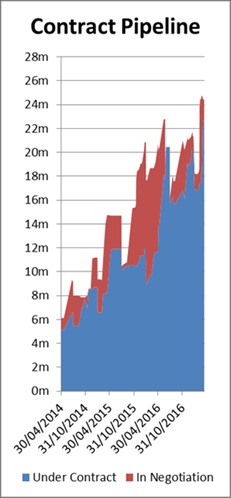 Source: ITM Power
Considering the strength of the April trading update, along with the company stating in its recent interim results that it remains "confident of delivering full year results in line with market expectations", we maintain our forecasts on ITM as per our note of 28th February and stand poised to upgrade on further contract wins
Our valuation method remains based on a private equity, discounted cash flow model approach, with forecasts extending out to 2028 and which we believe captures the key growth phase for ITM and allows us to come to a realistic prospective valuation. We use a terminal EBITDA multiple of 10 times and a very heavy discount rate of 20%. Our fair value target remains at 37.9p. With this implying 84% upside from the current price of 20.625p, we maintain our Conviction Buy stance.
DISCLOSURE & RISK WARNING
ITM Power is a research client of Align Research. Align Research owns shares in ITM Power.  
This is a marketing communication and cannot be considered independent research. Nothing in this report should be construed as advice, an offer, or the solicitation of an offer to buy or sell securities by us. As we have no knowledge of your individual situation and circumstances the investment(s) covered may not be suitable for you. You should not make any investment decision without consulting a fully qualified financial advisor.
Your capital is at risk by investing in securities and the income from them may fluctuate. Past performance is not necessarily a guide to future performance and forecasts are not a reliable indicator of future results. The marketability of some of the companies we cover is limited and you may have difficulty buying or selling in volume. Additionally, given the smaller capitalisation bias of our coverage, the companies we cover should be considered as high risk.
This financial promotion has been approved by Align Research Limited.