Kazera Global – Next few months set to be revolutionary for Kazera after HMS acquisition. Value disconnect moves to extremes.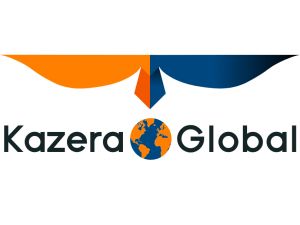 By Dr. Michael Green
Tremendous news this morning that Kazera Global has agreed with Tectonic Gold to take control of Whale Head Minerals (Pty) Ltd (WHM), which owns two Heavy Mineral Sands (HMS) opportunities in the Port Nolloth/Alexander Bay area of South Africa.
Over the past 12 months, investors have been served up a smorgasbord of value adding announcements, one after another. This latest announcement does nothing to disappoint as it clearly shows a well-planned path towards the start of a highly cash generative HMS project, with a potentially huge NPV.
At the moment, WHM is waiting for the final grant of a Mining Permit over a 5-hectare beach sand deposit at Walviskop which has a JORC Indicated Mineral Resource of 3.11Mt of Valuable Heavy Minerals at a grade of 61.2%. Apparently, the predominant Valuable Heavy Minerals are garnet (30.29% of Run of Mine (ROM)) and ilmenite (27.54% of ROM). Also present are zircon and rutile, which haven't been included in the economic modelling. The NPV has been determined at around £150 million based on a 20% discount rate and prevailing FX rates.
Within 6 months of being granted the Mining Permit, Kazera reckons it can produce something like 6,000 tonnes of HMS per month, which would suggest an estimated gross profit approaching $4m p.a looking at current prices.  Basically, the company will acquire 64% of WHM with a 10% stake retained by Tectonic and 26% being held on trust for future Black Economic Empowerment Partners. The acquisition price is US$250,000 being paid in Kazera stock with a 12-month lock-in.
That big NPV(20) valuation is just for Walviskop however. Truth is that WHM is also in the process of applying for a Prospecting Right over an adjacent beach which apparently bears all the hallmarks of having similar characteristics to Walviskop – but is reckoned to be 34 times larger. To save you reaching for your calculators, 34 x £150 million = £5.1 billion. Yes, that's right – £5.1bn.
The plan is that the costs of setting up this operation are expected to be covered by increasing production from Kazera's diamond and tantalum mining businesses. Moreover, potential partners have already been identified to build a Processing Plant on site – at their own cost. With such a plant in place the company will be able to separate out the HMS material into the constituent minerals, which adds a lot of value.
On top of all this, as a by-product of the HMS operation, Kazera's subsidiary Deep Blue Minerals is expected to generate around 300 carats per month of additional diamond production. It gets even better as beach diamonds tend to be bigger and better quality than those found inland and so we are talking about higher prices being paid at auctions. While inland diamonds typically attract prices around US$250 per carat, Kazera is fairly confident that they can sell these diamonds for more than US$750 per carat.
It looks like developments at the Muisvlak Plant are progressing well too. Kazera and its JV partner MV5 started operating the plant on 28th September –  which was ahead of schedule.  The plan is to operate the plant for a week in order to process the majority of the contractors' gravels to meet the auction cut-off date of 1st October. Then the plant will be closed for a week to conduct further upgrades. The target is to lift the throughput at the plant six-fold to 35,000 tons of gravel per month, significantly increasing the amount of gravel Kazera can process from its activities at Alexander Bay- see our last update HERE.
Dennis Edmonds, Kazera's Joint CEO, reckons that "The next few months will be revolutionary for the Company. With the Company on the verge of bringing its diamond and Tantalum operations into profitable production, now is the perfect time to bring the HMS project on board. We have worked very closely with Tectonic who have done a great job in adverse circumstances to progress the Mining Permit and the Prospecting Right. With the Mining Permit expected to be issued before the end of the year and the Prospecting Right lodged, we are now moving forward with negotiations with potential partners on setting up an HMS Separation Plant……The intention has always been to use diamond production as a means of funding future developments and it is very exciting for the Kazera Board to see the whole plan now starting to come together."
There is no doubt that rapid progress is being made right across each and every one of Kazera's operations. We initiated coverage on the company with a Conviction Buy stance in early August 2020 at 0.70p with a target price of 2.50p. Given the swiftly changing fortunes at the diamond and tantalum plays and now the HMS, even ahead of the big potential investment (€9.13 million at 2.70p) that is coming Kazera's way, there are plenty of reasons to be doing a full update note soon. We will be revisiting our target price for the stock, which. to give you a clue as to the direction of the price target, had been highly risked.  These risk weightings are now falling away at a rate of knots under Dennis Edmonds stewardship and without spoiling the full note update it's safe to assume a large price target uplift. At the current price of 1.275p we  believe the stock to be so far disconnected from fundamentals that it defies belief.  We reaffirm our Conviction Buy stance and will be once again eating our own cooking in the immediate term.
RISK WARNING & DISCLAIMER 
Kazera Global is a research client of Align Research. Align Research is the largest shareholder in Kazera Global and as such cannot be seen to be impartial in relation to the outcome of the Company's share price. Align Research & its Director are bound to the company's dealing policy ensuring open and adequate disclosure. Full details can be found on our website here ("Legals").
This is a marketing communication and cannot be considered independent research. Nothing in this report should be construed as advice, an offer, or the solicitation of an offer to buy or sell securities by us. As we have no knowledge of your individual situation and circumstances the investment(s) covered may not be suitable for you. You should not make any investment decision without consulting a fully qualified financial advisor.
Your capital is at risk by investing in securities and the income from them may fluctuate. Past performance is not necessarily a guide to future performance and forecasts are not a reliable indicator of future results. The marketability of some of the companies we cover is limited and you may have difficulty buying or selling in volume. Additionally, given the smaller capitalisation bias of our coverage, the companies we cover should be considered as high risk.
This financial promotion has been approved by Align Research Limited