Strat Aero – 2016 results highlight progress towards break-even and beyond. Speculative Buy recommendation.
Long suffering shareholders in un-manned aerial vehicles (UAV) business Strat Aero (AERO) had some respite yesterday after the markets reacted well to results for the 2016 financial year. The shares finished the day up by 48% at 0.105p but still leaves the business capitalised at just £2.06 million. While the company faces many issues, not least in finally reaching a break-even position, we see enough potential to rate the shares post the results release as a Speculative Buy.
Many investors will be familiar with the Strat Aero story but for those who don't here is a potted history.
The business was founded in 2014 by Captains Graham and Russell Peck (no relation), two pilots with decades of experience in the aviation industry, to exploit the exponential growth forecast to be delivered in the UAV (more commonly known as "drones") market over the coming years and decades. In order to advance its strategy Strat Aero listed on AIM on 17th November 2014, raising a total of £650,000 at a price of 8p per share

Recent years have seen UAV technology advance to the point where the use of drones is becoming increasingly widespread and further expected to grow strongly across a range of different industries. Technological advances have made UAV's cheaper to produce, more readily available and more reliable in terms of operational performance. As a result a huge market opportunity has opened up, one which Strat Aero is aiming to take advantage of.
According to the AUVSI Economic Report 2013 the UAS market is forecast to grow to more than $82.1 billion between 2015 and 2025, with the global airborne Intelligence, Surveillance and Reconnaissance (ISR) market estimated to grow to $19.23 billion by 2023. 
However, an initial focus by Strat Aero on providing pilot training and services to the US military never delivered. Then in 2015 the strategy changed to building up the company to be a fully vertically integrated UAV services provider, Strat Aero intending to become an industry consolidator. Shortly after, the company announced its first transaction, the acquisition of UAV surveying and inspection business Geocurve. In December 2015 another deal was revealed, the purchase of Texas based advanced UAV technology solutions provider Aero Kinetics. Unfortunately, the latter deal soon turned sour.
Very briefly, in April 2016 Strat Aero announced the filing of a legal action against Aero Kinetics' vendor, Mr. W. Hulsey Smith, alleging fraud. At the same time, CEO Tony Dunleavy resigned with immediate effect. He was replaced by Iain McLure, who has 20 years' experience in senior management, in order to review the company's strategy and get the business back on track.
Subsequently, the litigation was settled between the two parties before the case was heard in the courts. The settlement saw the disclaiming of any allegations of fraud against Mr. Smith, a cash payment to him of $75,000 and the issue of 44,750,645 new shares in Strat Aero, which have since all been sold.
With the previous strain on management and financial resources now over Strat Aero is now focussing on implementing its new strategy under new CEO Iain McLure.
While Strat Aero's strategy has been modified since the company listed on the market, its core approach of capitalising on growth opportunities in the UAV sector is unchanged. The planned expansion via acquisition has now been curtailed and the focus is upon aligning costs with revenues and building up the current operations to a point where a solid cash generative foundation will be established. To that effect, the plan now is to focus on the two areas of Commercial UAV Training & Education and Survey & Inspection Services in order to build recurring annualised revenue streams without having to commit considerable sums of capital.
At the core of the Survey & Inspection Services division is Geocurve, a specialist in carrying out topographical surveys, hydrological surveys and inspection services using UAVs. Approved by the Civil Aviation Authority (CAA) – the statutory body which regulates civil aviation in the UK, the company has acted for a range of blue-chip client which include the UK Environment Agency, CH2M, Northumbrian Water, EDF Energy, Balfour Beatty, Carillion and the RSPB.
In September 2016 Geocurve announced the largest contract win in its history.
This was with the Environment Agency to provide aerial inspection and level survey services on the UK public body's Thames Estuary Asset Management 2100 (TEAM2100) programme. The project, which is in two stages, is expected to deliver around £1 million of revenues over the 18 months from the date of award. Beyond that, and into the second stage of the project, Strat Aero believes that there is the potential for another £1.5 million of revenues, making a total of £2.5 million possible over a period of ten years.
On the Training & Education side of the business, Strat Aero operates overseas and UK based training and education programmes. The company sees this as an important area of expansion given the expected growth in demand in the UAV industry for professional qualified and trained pilots. The company has developed a range of professional training products for both commercial and public sector clients, including specialist training for military and law enforcement users.
In January 2016 the firm struck an important deal to enter the rapidly growing Asian UAV markets.
A Master Franchise Agreement was signed with Hong Kong based I-Coach, a venture backed by Chinese UAV technology importer Dacosmo, to roll-out the UAV Training Programme into several Asian countries and territories. Further, in August 2016 Strat Aero agreed a Master Franchise Agreement to roll out UAV training services in Malaysia. The deal has been struck with the Limkokwing University of Creative Technology, with the first "train the trainer" course expected in Kuala Lumpur in July 2017.
Complementing the group's other offerings is Strat Aero's in-house developed Digital Data Manager (DDM) software, a cloud-based platform which the company and its clients use to analyse captured data. This is an important part of Strat Aero's overall offering as it complements the firm's other services, providing additional added value to clients and giving the company an additional competitive advantage. With gross margins of over 80% it is also an attractive area for expansion.
2016 numbers reflect troubled past but signs of stabilisation are clear
Results just released for 2016 are dominated by losses driven by the company's litigation fight, money spent on commercial opportunities which did not materialise and high corporate costs. However, highlights of the numbers showed revenues almost doubling in the year, from $433,001 to $862,988, mainly as a result of Geocurve contributing a full year's worth of trading following its acquisition in 2015. This was modestly ahead of the $0.81 million revenue expectation given in an April trading update.
While still being substantially loss making in the year, net losses fell by 41% to $3.52 million. Reading the interim numbers we note that this implies a further reduction of losses in the second half – losses in the first half were $2,121,986, implying a second half loss of $1,402,490 – reflecting the company's cost cutting efforts. The balance sheet showed cash of just $3,918 at the period end and total borrowings of $417,555 but since then a total of $1.58 million gross has been raised via new share issues.
Significant cost cutting through 2017 with anticipated growing revenues
Comments on current trading were light – which is disappointing given that the results are now almost six months old. However, the company did state that the cost cutting strategy is expected to have maximum impact in 2017, with operations and performance in recent months said to have been encouraging. The Chairman comments that, "administrative costs for 2017 are expected to be significantly lower than (the $4,189,598 seen in 2016).
An "ambitious" target to achieve run rate breakeven by the end of 2017 has been set. Also, since the period end, a €25,000 contract has been signed with Cyprus's Department of Civil Aviation (DCA) to provide aviation consulting services.
Shares could be due for a re-rating, with the potential for a warrant related cash boost
Strat Aero has certainly had its share of troubles as a quoted company. But under the new management team clear progress has been made towards the key event of the business reaching break-even on an operational basis. With a streamlined focus on the two areas of UAV surveying and training, combined with the recent fundraisings and efforts to reduce the cost base, we believe the potential to break-even now looks like a having a reasonable probability of happening in the near-term.
We see 2017 as being a much better year for Strat Aero as a number of factors converge to deliver the most positive financial results to date. We expect momentum in growth at the top line to continue as Geocurve benefits from contributions from the TEAM2100 project and as the training business enjoys growth in income as the company's partners further roll out programmes across Asia. Combined with a continuation of cost reductions, at both the operational and corporate level, we see the business breaking even at the operating profit level by the end of the year in an optimistic scenario.
Based on recent discussions with management and analysis of the accounts, our own numbers envisage a worst case scenario of a loss of c.$1.07 million for 2017. Crucially, this implies that the recent funds raised should be sufficient to take the company through to the end of the current year.
Into 2018 things become a lot more interesting from an investment point of view if the growth momentum and tight management of costs can be maintained. Again taking our "optimistic" scenario, we see the potential for c.$1 million of operating profits to be delivered. That would put the shares on a multiple of around just 2.5 times earnings at yesterdays closing price – clearly signifying the upside potential should Geocurve continue to grow and new contract be brought on stream.
We note the high execution risk associated in delivering these numbers. Therefore, it will be critical for management to continue to deliver tangible evidence of moving towards break-even before the shares enjoy a material re-rating.
Warrants exercise provide further catalyst
Alongside the recent placings Strat Aero also issued a total of 1.55 billion warrants, exercisable at a price of 0.225p per share. Should the company successfully drive the business towards break-even in the near-term, we see the potential for the shares to rise towards and above this level, and thus for the warrants to be exercised. If all are exercised then the company will receive an additional £3,487,500 in cash, with the number of shares in issue rising by 79%.
Should that happen then Strat Aero could be in the situation, assuming a 0.225p share price, of having a c.£7.9 million market cap and c.£3.5 million of cash in the bank – ignoring any cash from operational profits. The cash adjusted EV would thus be c.£4.4m and the stock would still only be on just over 5 times cash adjusted earnings based on our forecasts. That would put the company in an excellent position to continue growing in the rapidly expanding UAV market and provide room for a further re-rating of the shares by the market. We thus now rate Strat Aero as a Speculative Buy with our confidence being particularly enhanced in the potential event of the warrant conversions.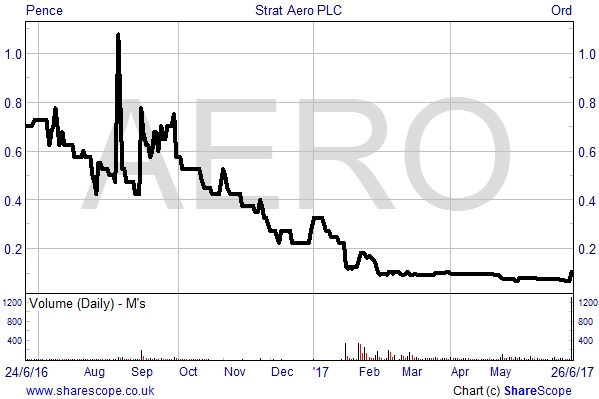 DISCLOSURE & RISK WARNING
Align Research & a director of Align Research has exposure to shares in Strat Aero. 
This is a marketing communication and cannot be considered independent research. Nothing in this report should be construed as advice, an offer, or the solicitation of an offer to buy or sell securities by us. As we have no knowledge of your individual situation and circumstances the investment(s) covered may not be suitable for you. You should not make any investment decision without consulting a fully qualified financial advisor.
Your capital is at risk by investing in securities and the income from them may fluctuate. Past performance is not necessarily a guide to future performance and forecasts are not a reliable indicator of future results. The marketability of some of the companies we cover is limited and you may have difficulty buying or selling in volume. Additionally, given the smaller capitalisation bias of our coverage, the companies we cover should be considered as high risk.
This financial promotion has been approved by Align Research Limited.