Tectonic Gold – Gold hits keep on coming at Specimen Hill

By Dr. Michael Green
Gold hits just keep on coming for Tectonic Gold from its drilling programme at Specimen Hill in Queensland.
Assays from the latest hole SHRC24 showed 2m at 3.68g/t gold at a depth of 79m. Not only does this mean that so far, every hole in the current drilling programme has been a winner, but also that it extends the drill tested zone at Specimen Hill to 800m of what is a 4km plus mineralised corridor being successfully tested at depth. Truth is that the drilling at Specimen Hill ahead of the December break has consistently showed medium to high grade over a few meters within a wider 5m to 10m+ lower grade halo.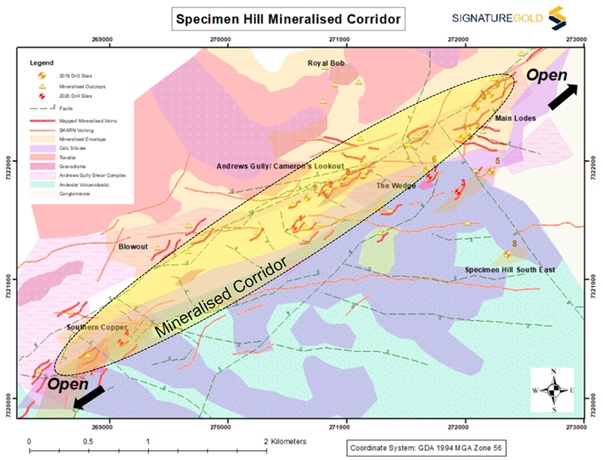 When it comes to being cost effective, these boys are re-writing the rule book. This morning's cracking announcement also pointed out that Tectonic has now amassed some 500 plus samples that are being pre-screened for assaying. The team sent material from the first few holes of the drilling programme for a rapid assay turnaround prior to Christmas – which will allow Tectonic to use them as a reference to filter the remaining samples.
Currently, 500 plus samples are now being prepped to be scanned with XRF, calibrated to the known assays from December. Now this is really neat. Basically, a handheld XRF scanner will give Tectonic a quick and cheap way to identify which samples should be sent for assay going forward. As the team mention, XRF will not give an accurate grade measurement but it will highlight samples that have gold/silver/copper and which are worth spending the money on getting assayed.
At the time, Brett Boynton was quick to drew attention to the project which "…is proving to be a very large system. From the Main Lodes in the North East to Southern Copper in the South West, Tectonic has mapped a 4km+ strike with detailed geochemistry and deep penetrating geophysical reconnaissance. It is important to note that the system remains open at both ends and at depth; we just haven't had the time and budget to map it any further. For comparison, the "Super Pit" at Kalgoorlie, one of Australia's most prolific mines, is 2.6km in diameter…"
Drilling is set to recommence at Specimen Hill, but now the rig has moved to complete the initial 1,500m at Mt Cassidy down to 200m. It has to be mentioned here that the team is awfully excited about drilling Mt Cassidy, because previous testing returned assays in excess of 30g/t gold. Here, Tectonic has completed extensive geochemical and deep penetrating geophysical mapping which has led to the identification of a textbook IRGS system which has been missed by previous explorers.
On the rig's return to Specimen Hill, the team will be drilling Southern Copper which lies at the SW end of the strike. This is a brand-new discovery following the 2019 bush fires in the region which cleared the ground for the first time in a generation and allowed Tectonic to let their geologists loose on this area. There looks like a good chance of a discovery here as the company's airborne SAM Survey geophysics seems to show that the Specimen Hill system extends through this area. That's not to mention really compelling results from surface sampling which revealed assays of 16% copper and 9g/t gold.
It wasn't hard to choose Tectonic as one of our tips of the year. It has got be said that 2021 looks like being the year when Tectonic comes of age. The company has a really impressive highly focused Australian high-grade gold portfolio with multi-million-ounce potential projects which are planned to be joint ventured or sold to majors. At this stage, all signs are that the majors are watching. Rio Tinto has already pegged acreage next door to Tectonic's flagship project which we believe speaks volumes for its potential.
Tectonic is well placed to provide the majors with replacement projects. The company has two large, advanced projects – one of which could be a Mt Morgan (8 million ounces (Moz) gold) lookalike – in a highly prolific gold belt. More than 3Moz is being targeted at each project now that the gold bearing systems have already been identified. Investors benefit from a past £7.5 million spend which has resulted in compelling discoveries and multiple drill ready targets. All the signs are that the company has identified and proven gold bearing systems in a highly prolific area.
The flagship Specimen Hill project seems to be shaping up to have impressive potential. There is going to be no shortage of news flow over the coming months with plenty of drilling results to look forward to. All of this data is planned to be used to define a maiden JORC resource with hopes for an upgraded resource and feasibility studies where the economic value of the gold mining project based on the defined resource will be determined later on in the year. This should result in a sustained news flow over Q1/Q2 2021 which could culminate in the very real prospect of a corporate deal on Specimen Hill before the end of 2021.
We updated our coverage of Tectonic in September 2020 with a Conviction Buy stance and a target price of 5.54p with the shares then standing at 0.35p. Now with the stock trading at 1.35p, we see more to come.
DISCLAIMER & RISK WARNING
Tectonic Gold (TTAU) is a research client of Align Research. Align Research holds shares in TTAU. Full details of our Company & Personal Account Dealing Policy can be found on our website http://www.alignresearch.co.uk/legal/ 
This is a marketing communication and cannot be considered independent research. Nothing in this report should be construed as advice, an offer, or the solicitation of an offer to buy or sell securities by us. As we have no knowledge of your individual situation and circumstances the investment(s) covered may not be suitable for you. You should not make any investment decision without consulting a fully qualified financial advisor.
Your capital is at risk by investing in securities and the income from them may fluctuate. Past performance is not necessarily a guide to future performance and forecasts are not a reliable indicator of future results. The marketability of some of the companies we cover is limited and you may have difficulty buying or selling in volume. Additionally, given the smaller capitalisation bias of our coverage, the companies we cover should be considered as high risk.
This financial promotion has been approved by Align Research Limited.