ValiRx – Further upside in shares ahead of potential partnership news
By Richard Gill, CFA
Listing on AIM in October 2006 via the reverse takeover of Azure Holdings, ValiRx (VAL) is a biotechnology oncology focused company which specialises in developing novel treatments for cancer and associated biomarkers which enable the early detection of cancer and its therapeutic intervention. The company is focussing on the development of so called "target-based" agents, those which are primed to attack cancer cells only, are less toxic and more effective against non-specific agents, such as chemotherapy. New drugs in this group, such as those in ValiRx's pipeline, promise to greatly improve outcomes for cancer patients.
The company's business model is focussed on progressing the clinical data of its therapeutic candidates and then finding a partner or out-licensing early in the development process. This approach aims for early-stage value creation and avoids the risks associated with full scale drug development. 
ValiRx currently has four therapeutics drugs in development, all having the potential for meeting currently unmet medical needs, targeting multi-billion dollar markets that are inadequately served by current drugs, and having a number of worldwide patent filings and agreed commercial rights. They originate or derive from institutions including Cancer Research UK and Imperial College.

Drugs in development
VAL201 – ValiRx's lead candidate, VAL201, is a peptide which is being developed for the treatment of androgen independent prostate cancer and hormone refractory prostate cancer.  VAL201 selectively prevents tumour growth by specifically inhibiting the proliferation of tumour cells. As a result, tumour growth is suppressed and metastasis is significantly reduced. Pre-clinical results have indicated that due to the specific nature of the treatment it is likely to be less toxic than many other therapeutic options. 
VAL201 specifically targets the association of an androgen receptor with Src, a protein that is important in tumour cell proliferation, without suppressing other hormone induced activities. VAL201 is intended to target a specific pathway from the androgen receptor, treating the cancer without suppressing sexual and other functions and without many other debilitating side effects many other therapies have.
In pre-clinical studies carried out in collaboration with the University of Oxford, VAL201 prevented cancerous growth in live models and treated models remained fertile and produced normal offspring. Currently, Phase I & II clinical trials for VAL201's prostate cancer programme at University College London Hospital (UCLH) Clinical Research Facility are ongoing, with the company reporting in September that no serious adverse events have been reported and VAL201 continues to show signs of clinical activity in patients with advanced prostate cancer. The study is estimated to complete by the end of 2017.
VAL301 – VAL301 is derived from VAL201 and is currently in late-stage pre-clinical development as a non-invasive, effective treatment for the non-cancerous gynaecological condition Endometriosis. Endometriosis is a common condition where tissue that behaves like the lining of the womb (endometrium) is found in other parts of the body. It mainly affects girls and women of childbearing age, can be a debilitation condition, and it represents one of the major causes of female infertility. 
Pre-clinical work on VAL201 highlighted the compound's potential to protect uterine tissue from the oestrogenic effects that give rise to Endometriosis, with minimal impact on bone density or fertility, which are major drawbacks frequently encountered with the current commonly used drugs. ValiRx is now focussing on completing the pre-clinical package and arriving at the optimal formulation so that it can obtain the necessary regulatory approvals to enter into a clinical trial in 2018.
VAL101 – VAL101 is a novel therapeutic based on the company's proprietary GeneICE (Gene Inactivation by chromatin engineering) platform. The GeneICE technology platform enables the design of compounds for selective "silencing" of so called "rebellious genes", which cause problems such as cancer and potentially some neurological problems. ValiRx has a world-wide exclusive licence from Imperial College for the GeneICE technology and for any resulting products, in addition to newly generated intellectual property rights. To date the company has attracted two Eurostars grants, a European grant scheme of €1.6 million each, for further development of GeneICE.
VAL101 is currently in the target selection and drug optimisation phase to block/silence the expression of a gene expressing Bcl-2 protein which has been implicated and associated with various cancers including pancreatic cancer. ValiRx currently intends to accelerate VAL101's late pre-clinical studies in preparation for the compound's entry into the clinic.
Causing the most excitement in the markets over the past few weeks has been the company's lung cancer candidate VAL401.
Under a joint-venture with SEEK group company Tangent Reprofiling Limited, named ValiSeek, VAL401 has recently been trialled as an oral treatment for late stage non-small cell lung cancer in a Phase II Clinical Study in Tbilisi, Georgia, with first dosing of patients having commenced in October 2016. VAL401 is a reformulation of the drug Risperodone, a drug which was approved for sale in the US in 1993 and has a well established safety record derived from clinical use in the treatment of schizophrenia and symptoms of bipolar disorder.
The reformulation activates anti-cancer activity, and this is the subject of granted US patents (US 9,375,433 and US 9,072,743).  A number of other US patents have been granted for VAL401, with one each in Australia and New Zealand, and international patents pending across Europe, Asia, Australasia and in North and South America, providing coverage in all significant markets worldwide.

ValiRx drug pipeline. Source: Company
VAL401 is targeting a huge worldwide market, with non-small cell lung cancer being the most common form of the disease, accounting for an estimated 80% of all lung cancer. The lung cancer market has significant unmet medical need and is projected by analysts at GBI Research to be worth $7.9 billion across the world's leading eight developed nations in 2020, growing at a CAGR of 6.6% from 2013.
Positive VAL401 data sends shares soaring
On 12th December shares in ValiRx closed the day up by 120% following news on the clinical progress of VAL401. Following up on the release of pharmacokinetic data from the completed Phase II trial in September 2017, the company revealed that the VAL401 treatment had a statistically significant improvement in "Overall Survival" for patients with non-small cell lung cancer compared to those receiving no treatment.
Results
For the trial, Stage IV Non-Small Cell Lung adenocarcinoma patients were recruited, having failed prior chemotherapy, with no further treatment options available. A total of eight patients received treatment with VAL401 for up to three months, with seven of these used for the Overall Survival data. For comparison, 20 case-matched patients who would have been eligible for the trial but did not consent in the same clinic, and who received palliative treatment only, were used, with 19 used for the survival calculation. This group in effect set a benchmark as to how long patients would be expected to survive without the treatment.
Comparing the overall survival rates of treated patients to untreated patients and measuring from the date that patients received their first course of chemotherapy until the date of death, the data suggest that the VAL401 treatment provided a statistically significant improvement in survival.
The table below summarises the results and suggests that the patient for which the drug worked the best lived an extra year compared to the best case in the benchmark group. While only carried out on a small sample the data show a clear distinction in the survival time of treated patients compared to those who were not treated.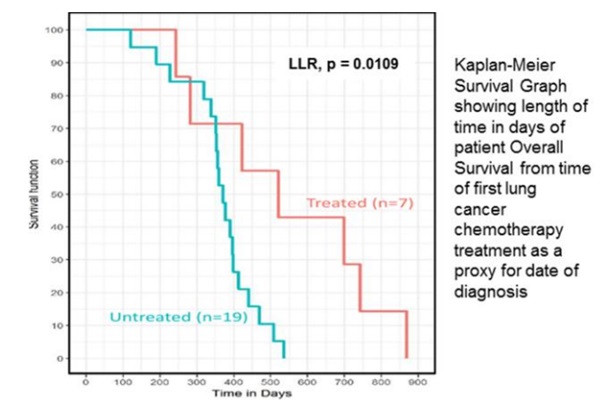 Further analysis of other endpoints, including Quality of Life, is underway at data analytics company Ariana Pharma, along with systematic scrutiny of underlying factors which dictate the response or non-response of patients to treatment. This aims to increase the chances of success in subsequent trials through informed patient selection. A Phase III trial is now planned, with comparison to standard of care proposed in approximately 200 patients.
Financing
As well as being positive on the drug development front, 2017 has seen a number of financing events to support the company's growth strategy and pay for operational expenses – in the six months to June 2017 ValiRx spent £1.68 million on R&D and administration costs.
March saw the company raise £1.16 million via a placing at a price of 2.5p per share. Along with the placing, warrants to subscribe for 46,509,015 shares at an exercise price of 5p were issued (equating to £2.325 million) and are exercisable at any time in the two years following the placing. The warrants added to 36.97 million already in existence which are exercisable at various points up to July 2021 at prices of 6p and 9p per share (see table below).
Adding to cash of £0.38 million as at 30th June 2017 ValiRx received R&D tax credits amounting to c. £650,000 in August. In addition, in September a further £0.5 million was raised in a placing at 1p per share, with £1.25 million raised in November via a placing at a price of 1.25p per share bolstering the balance sheet further.

ValiRx, warrants in existence as at 31st December 2016. Source: Annual report
Yorkville convertible loan
While equity issues have been the company's preferred form of financing in recent months, in September 2016 ValiRx entered into a convertible loan agreement with Yorkville. This provided the company with up to $3.75 million, able to be drawn down in 3 tranches of up to US$1.25 million each. Under the terms of the deal it was agreed that Yorkville could elect to convert varying amounts of the notes at the lower of 130% of the closing price on 2nd September 2016 and a price represented by 95% of the average of the 5 daily volume weighted average price (VWAP) of Yorkville's choosing from the 15 daily VWAPs immediately preceding the date of the conversion notice from Yorkville. The interest rate is 9% per annum.
As at 11th December 2017 ValiRx had drawn down the first two tranches, amounting to $2.5 million, and elected to close tranche 3. Yorkville has to date elected to convert shares amounting to $1.99 million (including accrued interest), with the conversion of $696,203 worth of these notes at an agreed price of 1.25p per share pending approval at a general meeting to be held on 21st December 2017. If approved, there will be jusr $0.52 million outstanding under the facility. While 1.25p is significantly below the current share price, Yorkville has the contractual right to convert at the agreed price. If not agreed, ValiRx would have to repay the loan in cash, which would put a significant strain on current resources.
Shares up 350% in two weeks but further potential remains
Since the beginning of December shares in ValiRx have surged by 350% on the back of anticipation over the VAL401 results and the confirmation of the study's findings. Peaking at an intraday price of 7.5p per share they have now slipped back to 5.625p, capitalising the company at £14.8 million. Following the rise, we note that the warrants issued in March at 5p are now in the money and if all are exercised ValiRx would receive another £2.325 million and provide, in our opinion, the company with sufficient capital to avoid another placing pending partnership news.
Assuming that the Yorkville loan conversion is approved, the number of shares in issue is expected to rise to 344,170,448, which would equate to a market of £19.36 million at the current share price. However, we believe that this valuation could still prove to be exceptionally cheap as we move through 2018.
Partnership deals close
Given the clinical progress made in VAL401 and the company's approach to out-licensing, we believe that ValiRx should be close to agreeing a deal with potential commercial partners in the form of big pharma companies. This has been strongly hinted at in the latest RNS, with ValiRx commenting, "The Company is in discussion with a number of large pharmaceutical companies who are looking to fill their pipelines in this therapeutic area."
To illustrate the potential value here, many historic deals signed by smaller players with big pharma companies for early development stage therapeutic candidates have run into the many hundreds of millions of dollars, representing many multiples of ValiRx's current market cap.
To give just one deal example, in May 2011 Swiss biopharma company Molecular Partners entered into a licence agreement with US pharma giant Allergan for the exclusive global rights to MP0112, a Phase II proprietary therapeutic protein under investigation for the treatment of retinal diseases. The agreement detailed an up-front payment of $45 million and further potential milestone payments of up to $375 million, along with tiered double-digit royalties on any future sales.
Of course, the main risk with drug development companies is that therapeutic candidates fail clinical trials. However, we believe that these are reduced somewhat with ValiRx as the active ingredient of VAL401 has a long history of safety, with VAL201 having a consistent safety record to date.
Looking ahead, in the coming weeks and months we expect further updates on data analysis from the VAL401 study, along with key initial data from the VAL201 trial. Investors will also be hoping for news of a partnership agreement for VAL401, an event which more than likely will be a major share price appreciation catalyst.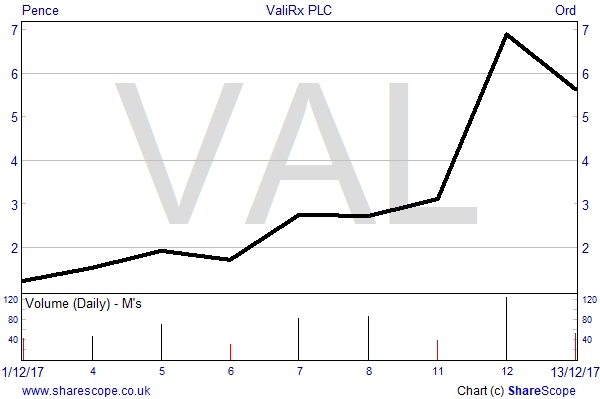 RISK WARNING
A Director of Align Research hold positions in ValiRx and is bound to Align Research's company dealing policy ensuring open and adequate disclosure. Full details can be found on our website here ("Legals").
This is a marketing communication and cannot be considered independent research. Nothing in this report should be construed as advice, an offer, or the solicitation of an offer to buy or sell securities by us. As we have no knowledge of your individual situation and circumstances the investment(s) covered may not be suitable for you. You should not make any investment decision without consulting a fully qualified financial advisor.
Your capital is at risk by investing in securities and the income from them may fluctuate. Past performance is not necessarily a guide to future performance and forecasts are not a reliable indicator of future results. The marketability of some of the companies we cover is limited and you may have difficulty buying or selling in volume. Additionally, given the smaller capitalisation bias of our coverage, the companies we cover should be considered as high risk.
This financial promotion has been approved by Align Research Limited.