Kazera Global – Tantalum offtake sets pace for renewed revenue generation. Buy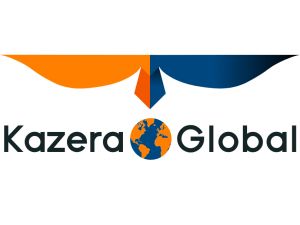 Yet another positive announcement from Kazera Global this morning where it seems the stars finally seem to be aligning in the company's favour. Last week when we learnt that profitable production of tantalum is expected from the company's Namibian mine before the year-end. This morning that news is capped by Kazera being able to report that it has now entered into an off-take agreement for the sale of all its tantalum production to a Chinese player with big ideas.
This deal is with Jiujiang Jinxin Nonferrous Metals Co Ltd and is for an initial three-year period to the end of 2024. Jinxin will be purchasing all the tantalum concentrate produced by Kazera at a fixed price that is competitive in terms of those being paid globally by end-users of tantalum. Already a test sample assay has been approved by the customer and airfreighted to China for factory testing. Not only that, but Jinxin has expressed an interest in developing Kazera's lithium deposit here. We have to say it, this represents another very neat deal and one that looks set to transform the fortunes of the company in the immediate term, even without the imminent investment of @ $11m at a near 100% premium to the current share price.
Jinxin specialise in various product lines related to tantalum, niobium and their derived products, which include High-purity Tantalum Pentoxide, High-purity Niobium Pentoxide, Common Grade Tantalum Pentoxide, Common Grade Niobium Pentoxide and K2TaF7 (Ksalt).  Apparently, Jinxin ′s products are sold throughout China as well as to America, Japan, Korea and European countries.
Larry Johnson commented that "We chose to enter into an agreement with Jinxin because they clearly understand the complexities of plant operational restarts and can utilise the high grade of Tantalite. I have also had extensive positive experience of working with them in the past. Sourcing product from Namibia has major advantages for buyers as the country is far removed from conflict and has excellent infrastructure. We were approached by dealers in Tantalum who would have accepted much lower standards, but who we felt have less growth, flexibility and commitment than displayed by Jinxin."
So, all the pieces are now really in place for profitable tantalum production to begin, now that an offtake deal has been sorted. We have never had any doubts about the quality of the asset which is a demonstrably high-grade tantalum project in Namibia. Importantly it does no suffer from the radioactivity issues of many other major Tantalum suppliers. The strategy of bringing the mine back into production using borehole water and benefiting from improved water retention techniques is set to produce a decent cash flow within months.  All this is happening with exquisite timing, given the growing importance of tantalum in the manufacture of many personal electronic devices such as smartphones.
To us the really interesting element within the RNS is the lithium potential, which is truly impressive. It's a really neat story as Kazera almost gets the lithium for nothing as the tantalite mineralisation contains lithium. At the same time, impressive lithium grades at Purple Haze also come with good levels of tantalum. In 2018, licences over 1,500km² adjacent to the Tantalum Valley were acquired by Walkabout Resources (ASX:WKT) where more than 600 pegmatite bodies have been identified together with more additional pegmatite swarms. On this neighbouring property, structural control has led to the identification of Lithium-Caesium-Tantalum LCT-type enrichment pegmatites with grades as high as 1.6% Li2O5. There is nothing to suggest Kazera's land does not enjoy the same profile. It is widely accepted that demand for lithium is to continue rising dramatically for use as a battery metal. The World Bank in its 2020 updated "Minerals for Climate Change" forecast that demand for lithium, cobalt and graphite could climb by 400-500% by 2050 in a scenario where global warming is limited to 2°.
We initiated coverage on Kazera with a Conviction Buy stance in early August 20202 at 0.70p with a target price of 2.50p. Given the swiftly changing fortunes in this tantalum play even ahead of the big potential investment that is coming Kazera's way, together with the rapidly growing potential of both the diamonds and the imminent heavy mineral sands licence award does mean that we will be shortly completing a full update note. We will be revisiting our target price for the stock, which we make the point had been highly risked and these risk factors are reducing by the day now with recent newsflow. At the current price of 1.375p, representing approx 50% of the major investment level, we are more than happy to confirm our Conviction Buy stance.
RISK WARNING & DISCLAIMER 
Kazera Global is a research client of Align Research. Align Research is the largest shareholder in Kazera Global and as such cannot be seen to be impartial in relation to the outcome of the Company's share price. Align Research & its Director are bound to the company's dealing policy ensuring open and adequate disclosure. Full details can be found on our website here ("Legals").
This is a marketing communication and cannot be considered independent research. Nothing in this report should be construed as advice, an offer, or the solicitation of an offer to buy or sell securities by us. As we have no knowledge of your individual situation and circumstances the investment(s) covered may not be suitable for you. You should not make any investment decision without consulting a fully qualified financial advisor.
Your capital is at risk by investing in securities and the income from them may fluctuate. Past performance is not necessarily a guide to future performance and forecasts are not a reliable indicator of future results. The marketability of some of the companies we cover is limited and you may have difficulty buying or selling in volume. Additionally, given the smaller capitalisation bias of our coverage, the companies we cover should be considered as high risk.
This financial promotion has been approved by Align Research Limited