The BlueJay Mining – Alba Minerals conundrum
We have been bears of BlueJay Mining (see HERE) for many months, believing the stock to be one of the biggest AIM promotes in recent years. We have raised many flags from the supposed "cornerstone" investor Western Areas of Australia selling out, related party sales (read SP Angel) whilst advocating a Buy stance and Director selling (at much lower levels) and not least, the resource only being at the lowest level of status (inferred) through to the continued slippage of the timelines management headed by Rod Mciillree have set.
In illustrating just how the stock has been levitated despite the schedule set by the company being missed month after month, see here from the 19th July 2016 RNS – https://www.investegate.co.uk/finnaust-mining-plc–jay-/rns/2016-work-programme-approval/201607190700055175E/
The following statement from that RNS stands out to me – "FinnAust has now received approval for all activities proposed in the 2016 exploration programmes (apart from EIA works which is expected shortly). " Fast forward to 14 Nov 2017 and the RNS here was released – https://www.investegate.co.uk/bluejay-mining-plc–jay-/rns/positive-permitting-update/201711140700053812W/ Note this line that we see as spinning a delay as a positive – "Continued progression through the permitting system marks another key achievement for our Dundas Ilmenite Project as we continue to execute on our defined development strategy to build a robust and long life mineral project.  With strong stakeholder and Government support received to date, we can now advance into the final stages of project permitting, which together with ongoing feasibility studies, will culminate in an application for exploitation early next year.  We look forward to keeping shareholders updated with our progress."                                     
As at today's date we note that still there is no EIA approval and indeed in their placing (which was a helluva coup for them to raise £17m and I continue to tip my hat to Mcillree's capital raising skills!) RNS of 2 February the following statement was then made – "Completing EIA (Environmental Impact Assessment) and SIA (Social Impact Assessment) targeted for spring 2018" Well I don't know about you but from what I can see a summer 2016 to early summer 2018 (if it comes) EIA approval (aside from the SIA still outstanding) and still being sans the all important Exploitation Licence smells rather like a long delay to me and that has been glossed over by the company and its supporters.
If we suspend all our concerns for a moment however we highlight what looks to be a glaring valuation arbitrage opportunity between Alba Minerals & Bluejay Mining. As at today's date JAY is capped at a shade over £200m whilst ALBA is capped at just under £9m. So what you may ask? Well ALBA holds a similar mineral licence in an area called Thule (see images below) and ALBA's licence extends to over some 290 Km2 (details here – http://www.albamineralresources.com/page.php?pID=60).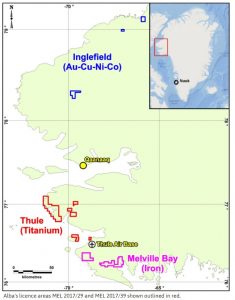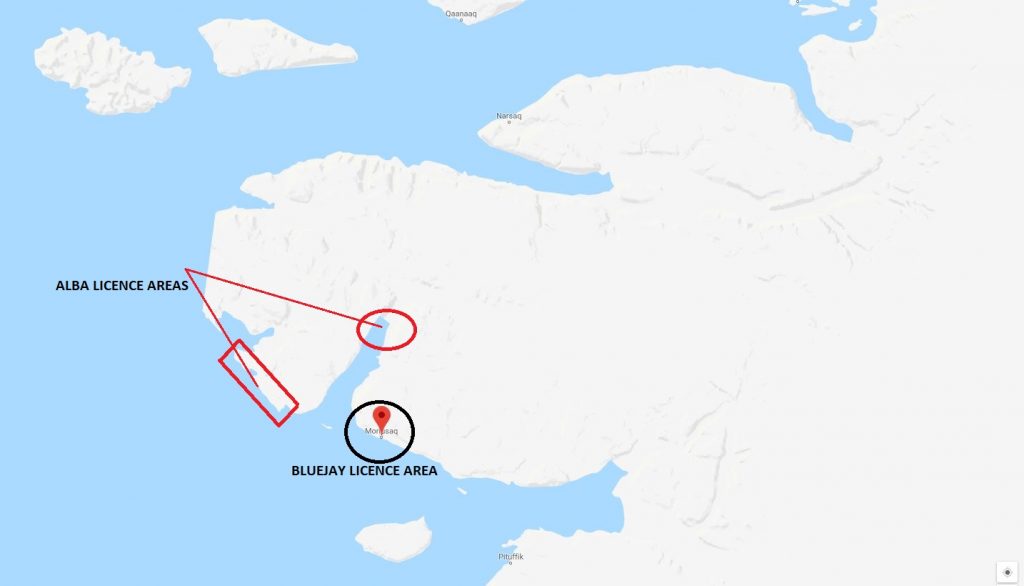 The location of Bluejay's mineral sands project? As you can see in the image above it is right next door to ALBA's. The implications of this are clear, and that is IF (and it is a very big IF) the current market cap of JAY is anywhere near realistic for the stage of development of their asset, then considering that the market cap of ALBA is made up almost entirely from their Brockham & Horse Hill interests, by extension ALBA should be worth many, many multiples of the current stock price. Or, if commercial logic applies, JAY should simply make a bid for ALBA. Indeed, the now renamed Dundas field owned by JAY is a mere 9km from ALBA's licence area and it would make commercial sense given the disparity in the value of their paper to look to acquire ALBA's licences if they really believed they can put the Dundas project into production. Are we really to believe that in such a small area variation the ilmenite resource from ALBA's licence area is deemed to be massively inferior? This report here illustrates this is not the case with the same profile extending for many hundreds of kms along this coastline – http://www.titanium.gl/documents/company-research/GEUSReport_2017_18.pdf
In fact, in Sep of last year ALBA carried out their own sampling of their licence areas which, as with JAY, confirmed the presence of heavy mineral sands in active raised beaches. A maiden JORC resource is due shortly too from ALBA. A simple satellite overview of the 2 areas also debunks some commentators statement that the ALBA licence area is stymied by large cliffs and inaccesibility. Clearly as the image below shows this is not the case and the topography is essentially the same.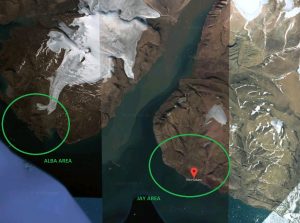 Something clearly does not add up. If we strip out of JAY the circa 15m GBP of cash we estimate is left on balance sheet (@ 1.7p) and apply an arbitrary 1p for the balance of their Finnish portfolio this still implies the market is valuing JAY's Dundas field at in excess of 20p per share or approx £170m. By way of illustration of this phenomenal market disjoint, if we applied the same valuation to ALBA's licence area (which at present has, we would argue, less than £1m of implied value in their market cap) the stock would be trading at 6.5p. That's right 6.5p – over FIFTEEN times the current market cap.
NOTE – we have not included in this piece any value attribution to  ALBA's other assets at Horse Hill, Brockham, Amitsoq & Inglefield (also in Greenland) or the Clogau gold project in North Wales & Irish lead & zinc interests. Third party analyst estimates of value here run up to 10p per share too.
To conclude, IF the valuation of JAY has any basis of reality then ALBA is stupidly undervalued on their Thule licence front alone. If (as we believe) JAY's valuation has no basis in reality and is an illustration of what can be done with a limited free float and hard promotion, a short position here v a long play in ALBA we believe will pay dividends many times over as we progress through 2018 into 2019.
DISCLOSURE & RISK WARNING
A Director of Align Research Ltd holds a position in Alba Minerals and is bound to Align Research's company dealing policy ensuring open and adequate disclosure. Full details can be found on our website here ("Legals").
This is a marketing communication and cannot be considered independent research. Nothing in this report should be construed as advice, an offer, or the solicitation of an offer to buy or sell securities by us. As we have no knowledge of your individual situation and circumstances the investment(s) covered may not be suitable for you. You should not make any investment decision without consulting a fully qualified financial advisor.
Your capital is at risk by investing in securities and the income from them may fluctuate. Past performance is not necessarily a guide to future performance and forecasts are not a reliable indicator of future results. The marketability of some of the companies we cover is limited and you may have difficulty buying or selling in volume. Additionally, given the smaller capitalisation bias of our coverage, the companies we cover should be considered as high risk.
This financial promotion has been approved by Align Research Limited.