Caracal Gold – more good drilling results from Kilimapesa in Kenya

By Dr. Michael Green
More good news from Caracal Gold, the rapidly expanding East African gold producer with a +1.3Moz JORC-compliant gold resource. This morning the team didn't disappoint, unveiling some cracking assay results from Kilimapesa Hill which confirm high-grade mineralisation.
The message coming out here loud and clear is that this orebody is not only high grade but also open at depth – three magical words that should warm the heart of any investor. This latest announcement focused on the second batch of sample assay results from its Reverse Circulation (RC) and Diamond Drilling (DD) drilling programmes. These continue to confirm the strike and depth continuation of the known orebody at the Kilimapesa Hill deposit at Caracal's Kilimapesa Gold and Mining Operations in Kenya.
These latest results continue to confirm strike and depth continuation of the mineralisation with strong gold grades, as had been expected. So far, the company has drilled 75 holes for 7,522m of the planned 12,000m RC drilling programme and 8 holes totalling 1,547m of the planned 3,000m DD programme, which began in December 2021.
Importantly, the initial drilling successfully targeted areas east of and close to the existing underground mine, with the latest phase stepping out on strike to the eastern boundary of the mining licence as well as to the west of Kilimapesa Hill.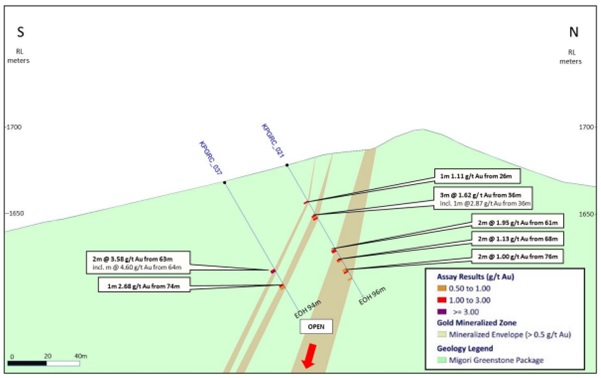 South-North section – Holes KPGRC 021 and KPGRC 037. Source: Company
Hole

Results

REVERSE CIRCULATION

 KPGRC037

2m @ 3.58 g/t gold including 1m @ 4.60 g/t Au (gold) from 64m

KPGRC046

5m @ 1.62g/t Au including 3m @2.07g/t Au from 50m

KPGRC047

6m @ 1.65g/t Au from 79m

KPGRC052

5m @ 2.26g/t Au including 2m @ 3.04g/t Au from 37m

KPGRC052

4m @ 2.20g/t Au including 2m @ 3.24g/t Au from 64m

KPGRC053

3m @ 1.90g/t Au from 10m

KPGRC055

4m @ 3.51g/t Au Including 3m @ 4.09g/t Au from 13m

DIAMOND DRILLING

KPGDD005

4m @ 3.51g/t Au Including 3m @ 4.09g/t Au from 13m
Highlighted of assays of 993 samples from Batch 2 results of the RC and DD holes. Source: Company
There are four key points that we would draw investors' attention to. Firstly, the results are in line with what the team expected and provide continued confirmation and validation of the drilling program that is being executed on Kilimapesa Hill. Secondly, that tremendous intercept at a depth of 209m of 28g/t is highly exciting for the future prospects of the Kili Hill. It might be early days but looks like it will definitely form part of the company's future drill programs.
Thirdly, the rigs are going on to the first of the regional targets and as these results come out it should build the overall picture for the Kilimapesa license. If that wasn't enough, the third batch of samples have gone to the lab and momentum building towards the MRE at end of June, with everything programmed toward this is in place and being delivered. Well, there looks as though there is going to be no let-up in the impressive news.
Chief Executive of Caracal Gold Plc, Robbie McCrae really set the scene commenting that:  The second batch of sample assay results from the drilling programme on Kilimapesa Hill continues to confirm strike and depth continuity, with positive gold grades, as anticipated. The high-grade intercept from DD hole 005 of 29.23g/t Au over 1m from 209m provides further proof that the orebody is open at depth. This has particularly sparked my interest for future drilling and underpins the significant potential of the mine."
Investors have an updated resource from the Kilimapesa Hill which is expected by the end of June. On this Robbie went on to mention that: "With the drilling on Kilimapesa Hill almost complete we look forward to delivering an updated resource at the end of June and are excited to be moving to the higher-grade regional targets to support continued resource expansion. To date, we are very pleased with all aspects of the drilling campaign and look forward to not only an increase in ounces and confidence levels in our mineral resource but also, and importantly, improved information and quality of the existing resource to aid us in our planning and mining operations……"
Certainly, the imminent announcement of the updated MRE on Kilimapesa feeds into both the narratives of getting the target of 2Moz JORC-compliant resource at Kilimapesa and 3Moz for the group. There is no doubt that clear progress is being made on all fronts at Kilimapesa with 2,000 ounces per month scheduled to be achieved in December 2022. Momentum is being clearly displayed every month and every quarter without fail. The new heap leach works and now they just have to scale that. At the same time the team seems to have also mastered the management of the tailings.
Ok, investors will need to accept that between now and December there are likely to be some good months and some bad months for gold production at Kilimapesa which depends on which parts of the operation are being upgraded and improved. The board has made it perfectly clear to us that it is now not a question of if and how they will achieve 2,000 ounces per month but just a case of implementation.
Plus, there is the build-up of excitement also in Tanzania where the development programme looks fairly straight forward to us. Next steps include finalising the exploration plan and infrastructure preparation during Q3 2022, ahead of commencing additional drilling to grow and increase confidence in resource at the start of Q4 and feasibility study work in Q2 2023. So, we are looking at bankable growth. Moving ahead it looks like we are also assured a healthy news flow from Tanzania with the appointment of the team and drill contractors in the country.
Align Research initiated coverage on Caracal Gold in February 2022 with a Conviction Buy stance when the shares were trading at 1.15p with a conservative target price of 2.73p. Here we must say that our valuation was based on a peer group comparison with Shanta Gold (LSE:SHG) which is also an East Africa-focused gold producer, developer and explorer. At the time Shanta's EV/oz figure was calculated to be £35.73 or US$48.25 which we used to place a valuation on Caracal.
Last week, Robbie drew attention to the OKLO's flagship Dandoko Project in west Mali with a JORC compliant MRE of 11.3Mt at 1.83g/t for just under 700,000oz which was being acquired by B2Gold at US$100 per ounce.  So, it does looks as though we could afford to be more generous in our valuation and target price for Caracal Gold.  At the current price of 0.80p we are more than happy to confirm our stance.
RISK WARNING & DISCLAIMER 
Caracal Gold is a research client of Align Research.  All employees and analysts are bound to the company's dealing policy ensuring open and adequate disclosure. Full details can be found on our website here ("Legals").
This is a marketing communication and cannot be considered independent research. Nothing in this report should be construed as advice, an offer, or the solicitation of an offer to buy or sell securities by us. As we have no knowledge of your individual situation and circumstances the investment(s) covered may not be suitable for you. You should not make any investment decision without consulting a fully qualified financial advisor.
Your capital is at risk by investing in securities and the income from them may fluctuate. Past performance is not necessarily a guide to future performance and forecasts are not a reliable indicator of future results. The marketability of some of the companies we cover is limited and you may have difficulty buying or selling in volume. Additionally, given the smaller capitalisation bias of our coverage, the companies we cover should be considered as high risk. You should also assume, given that the majority of Align's fees are received in stock, that for general corporate cash management purposes including taxation, that divestments of investments held will take place as and when, in Align's sole discretion, it is deemed appropriate.
This financial promotion has been approved by Align Research Limited