Hummingbird Resources – Interims show first full six months of production from Yanfolila
By Dr.Michael Green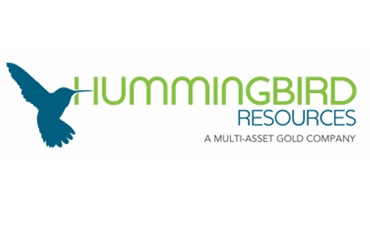 Interim results from Hummingbird Resources have shown the company has successfully negotiated the path from developer to producer, with the Yanfolila Gold Mine in Mali producing 51,304 ounces in the first full six months of production. The numbers showed that a total of 50,667 ounces of gold were sold at an average price of US$1,312 an ounce, providing US$66.6 million of revenue. In all, 577kt of ore was mined and plant recovery was 95.64%, which is well ahead of the design figure of 93%.
Total all in sustaining costs (AISC) came out at US$884 per ounce, which includes the cost from Q1 while ramping up to commercial production, with Q2 AISC (on gold sold) falling to US$790/oz. For the period EBITDA came out at US$21.9 million, with a pre-tax profit of US$3.5 million. As at 30th June 2018, the company had cash of US$46.2 million.
The statement pointed out that an abnormally wet rainy season might have led to lower production figures in the current quarter, but even so management is confident of achieving its full year (2018) production guidance of 105,000 – 115,000 ounces of gold, which includes the Q1 ramp-up period. With the results to date, we believe that investors can be reassured that these guidance figures can be achieved.
The management team is committed to spending US$8 million a year on planned infill drilling at Yanfolila which is designed to boost reserves, increase mine life and ensure that Hummingbird benefits from strong cash flow for many more years to come. This work is expected to extend the mine life of Yanfolila by converting Resources to Reserves through exploration. The goal for 2018 is to extend the mine life from 6.5 to 10 years, which will come from a new Reserve statement.
Already in H2 2018 there has been more good news from the exploration programme. For 2018, the team hope to bring as much of the 1.5Moz of Resources, that as yet is not in Reserves, to become part of the Life of Mine (LoM) plan. The focus of attention has been sensibly been prioritising those areas which will have the biggest effect on mine life, along with discovering extensional Resources. This will form the basis of the new mining plan, which is expected to be published by the year-end.
Initial results from the exploration programme seem impressive, with the first set of results from both Komana West and Guirin West already in. These results included a significant number of positive drill intersections which defined new zones of mineralisation that are not yet in the Resources.
Drilling results from Komana West included: 11.45m @ 8.69g/t from 69m depth and 25.75m @ 2.95g/t from 117m depth. Importantly, a number of these mineable widths from the drill intersections come from areas which lie beyond the current pit design and serve to extend existing zones deeper which looks likely to increase the mine life.
Infill drilling at Guirin West (GW) is designed to de-risk more than 70koz of Resources. Drilling results from here have included: 16m @ 3.11g/t from 38m depth and 4m @ 8.12g/t from 13m depth. This work has confirmed the presence of a shallow oxide mineralisation which could be extracted by open pit mining. The current mine plan includes no Resources or Reserves from GW, but that looks as though it is all about to change. Not only is this mineralisation attractively shallow but also sits close to the processing plant.
There is no shortage of good news coming from the Yanfolila Gold Mine as recently, investors learned that management has approved construction of a second ball mill. This would provide greater flexibility and allow the current capacity of 1.24Mtpa to be maintained when processing the 100% fresh ore, even though it is harder. The original DFS planned that the annual throughput would decrease from 1.24Mtpa to 1.0Mtpa, when operating with 100% fresh ore, leading to the LoM average production dropping to 107,000ozs/year from 130,000oz in the first full year of commercial production. But now that won't be happening. In fact, when blended with 25% oxide material, the throughput capacity is set to increase to 1.4Mtpa, which provides further food for thought.
The Hummingbird story is high compelling in our view. Not only is Yanfolila delivering its promise but there is also the company's Dugbe Gold Project, which at 4.2Moz is the largest gold project in Liberia. Here, there is tremendous scope to build a large-scale project and ongoing negotiations here could bring in a strong financial partner with the potential to fund Dugbe straight through to production.
The strong cash flow from Yanfolila could be transformational as it provides management with the wherewithal to develop further gold mines in West Africa. Certainly, successfully putting Yanfolila into production for a low capex figure has demonstrated the team's expertise in developing new mines and bringing such project on stream in a timely fashion with enviable cost control.
Conclusion
Investors looking for an under-priced opportunity amongst gold stocks should take a good look at Hummingbird in our view, with the company becoming a successful commercial gold producer. We believe that the company bears all the hallmarks of being a mid-tier gold stock in the making. Normally, resources companies get a re-rating when the first mine goes into production, but instead the stock price has gone into reverse.
We initiated coverage at 30.5p at the beginning of July 2018 with a price target of 46.43p. We continue to believe that Hummingbird is cheap by any yardstick whether it be NPV, cash flow multiples or peer group comparisons. The drilling programme looks likely to result is a significant increase in Reserves allowing for a re-run of the pit optimisation and a longer LoM. This move should allow us to revisit our target price, which we believe could be upped significantly.
RISK WARNING & DISCLAIMER
Hummingbird Resources is a research client of Align Research. 
This is a marketing communication and cannot be considered independent research. Nothing in this report should be construed as advice, an offer, or the solicitation of an offer to buy or sell securities by us. As we have no knowledge of your individual situation and circumstances the investment(s) covered may not be suitable for you. You should not make any investment decision without consulting a fully qualified financial advisor.
Your capital is at risk by investing in securities and the income from them may fluctuate. Past performance is not necessarily a guide to future performance and forecasts are not a reliable indicator of future results. The marketability of some of the companies we cover is limited and you may have difficulty buying or selling in volume. Additionally, given the smaller capitalisation bias of our coverage, the companies we cover should be considered as high risk.
This financial promotion has been approved by Align Research Limited