MetalNRG – encouraging results from geochemical campaign at Gold Ridge

By Dr. Michael Green
This morning's upbeat exploration report on the GoldRidge Gold Project in Arizona seem to begin to point the way towards the real possibility of a larger gold/base metal system begging to be discovered here.
MetalNRG has completed its Phase I geochemical campaign at its Gold Ridge Gold mine property and the team sees these very encouraging results that pave a pathway to further exploration work to be focussed and planned.
The highlights included: soil geochemistry providing evidence for multiple geologic events including the offset of the Apache Pass Shear Zone (APSZ) at the eastern termination of historic mining; and the offset implying that historically mined gold mineralisation is transposed northwards where no exploration drilling has occurred.
On top of that, a new linear gold anomaly has been defined in the Southern PC block which parallels the APSZ as a multi-element geochemical anomaly. Meanwhile, a new significant multi-element geochemical anomaly occurs 1km west of the Dives Mine. That's not to mention copper anomalies in volcanic rocks showing strong evidence for radial fracturing, a common feature of porphyry deposits.
It was pointed out that the findings of the geochemical programme encourages the company to conclude that the area may host a larger mineralisation system controlling all the surface mines and showings. This is a point that the project's Senior Geologist Bart Stryhas elaborated on, stating  "These results confirm our previous beliefs, that there is indeed a real possibility of a larger un-discovered gold/base metal system at Gold Ridge; we are now working with the Board to establish the next steps."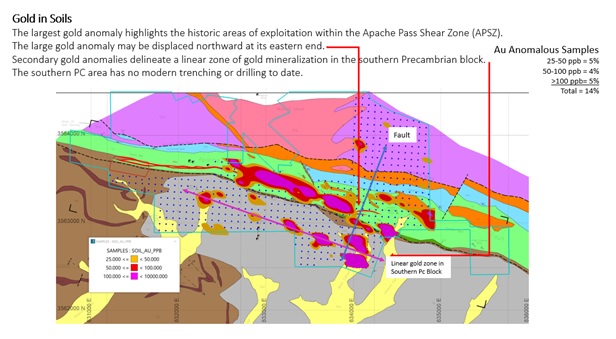 Gold in soils results slide from the presentation of the Goldridge soil sampling programme 2022. Source: Company 
These results were announced as MetalNRG has completed just under 600 (Phase I) of the 1,000 geochemical samples planned. The largest gold anomalies were found in historical areas mined for gold. However, a secondary zone of gold anomalies was found in an area previously unexplored and delineates a new linear zone of gold mineralisation in the Southern Precambrian block– an area which has seen no modern trenching or drilling to date. To show just how good these results look to be, of all the sample results to date apparently 14% have gold above 25ppb, 38% silver above 0.3ppm, 47% lead above 35ppm, 40% copper above 35 ppm and 33% zinc above 115ppm.
By way of background, the Gold Ridge Gold Project lies 85 miles east of Tucson in Dos Cabezas Mining District, Cochise County in Arizona. MetalNRG has a 100% interest in this project which covers an area of 9.3km². This is a brownfield gold exploration play where there are ample opportunities for development as the area remains underexplored for the past 35 years and looks to have plenty of potential for making new gold discoveries.
The Gold Ridge Project spans a large area which includes three historical underground gold mines called Gold Prince, Gold Ridge and Dives. They were each mined over various intervals between discovery in 1877 and 1996. Historical production at the Gold Prince Mine through to 1996 saw a total of around 22,000 ounces of gold mined above the #6 level. This mine was operated from 1984 to 1996 by Phelps Dodge, Queenstake Resources and lastly Western States Mining Corp.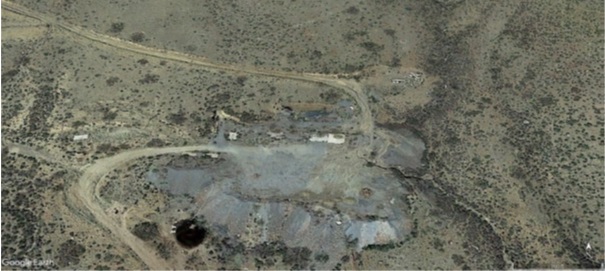 Gold Prince Mine #6 level portal and dump which is estimated to host 2,500t. Source: Company
These three historic mines cover a 1.8km strike length that lies within a prospective 5km long vein swarm. The geology of the area suggests that steeply dipping high-grade gold bearing, quartz-sulphide veins are hosted within the 32km long, Apache Pass shear zone, which lies adjacent to a Tertiary plutonic-volcanic centre. The historic Dos Cadezas Mine was located in the nearby plutonic rocks which were magma that cooled below surface.
MetalNRG has been focused on gaining a complete understanding of the rock types, structures, soil geochemistry and mineralisation of the mine area. With such knowledge, the team is seeking to develop Mineral Resources and Mineral Reserves to support recommencing mining.
Consolidating previously producing mines in the area looks as though it could become interesting. Initially, the team looked at waste dumps with gold and then gained some impressive assays when sampling the pillars underground. However, the geologists have now taken a step back and are looking at the much bigger picture. SRK reckons that there are much larger opportunities to these three small mines, which are not that far apart. Truth is that no one has looked at the overall geology and structure. Now that is happening it does seem that the true potential might start to begin to be unveiled. This is all at a time when gold is expected by many market analysts to be riding high.
We appreciate that a lot of things have changed since we initiated coverage of MetalNRG with a Conviction Buy recommendation and a 1.2p target price in January 2021 when the stock was trading at 0.335p. Despite all that the stock today seems woefully oversold in our view. Sitting currently at the 0.18p mark, we see a potentially good buying opportunity.
RISK WARNING & DISCLAIMER
MetalNRG is a research client of Align Research. Align Research holds an interest in the shares of MetalNRG. Full details of our Company & Personal Account Dealing Policy can be found on our website http://www.alignresearch.co.uk/legal/ 
This is a marketing communication and cannot be considered independent research nor is it subject to any prohibition on dealing ahead of its dissemination. Nothing in this report should be construed as advice, an offer, or the solicitation of an offer to buy or sell securities by us. As we have no knowledge of your individual situation and circumstances the investment(s) covered may not be suitable for you. You should not make any investment decision without consulting a fully qualified financial advisor.
Your capital is at risk by investing in securities and the income from them may fluctuate. Past performance is not necessarily a guide to future performance and forecasts are not a reliable indicator of future results. The marketability of some of the companies we cover is limited and you may have difficulty buying or selling in volume. Additionally, given the smaller capitalisation bias of our coverage, the companies we cover should be considered as high risk
This financial promotion has been approved by Align Research Limited