It's time to go short on the U.S. Nasdaq index
By Richard Jennings, CFA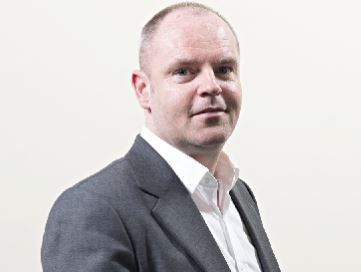 Looking at the 10 year chart of the Nasdaq Composite over the weekend and the returns generated from the nadirs in 2008 it struck me just what a phenomenal annual growth rate has been achieved – in fact just shy of 23% p.a on a compound basis and which is one that is, I believe, not bettered over the same timescale (8 year period) since the index's creation.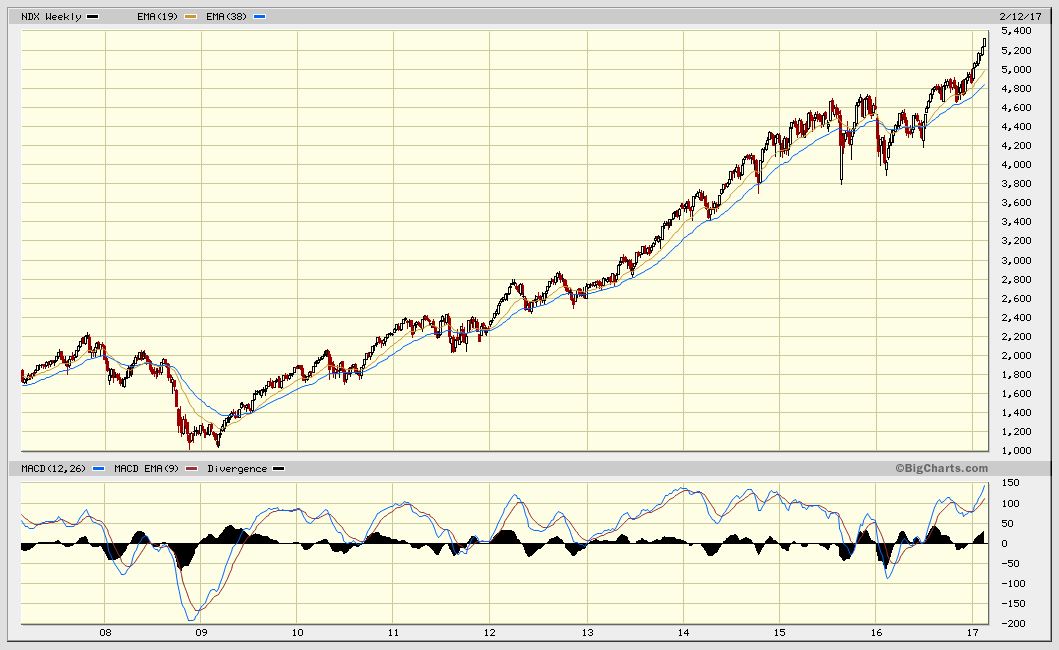 Nasdaq 10 year chart
When one considers that over the same period the annual published inflation rate has been less than 2% in the States we can see just how, in real terms, tech investors have made stupendous returns. In the investment world however there is one immutable law and that is "reversion to the mean".
These types of returns, bearing in mind that many of the companies that make up the index are trading at valuations last seen at the peak of the dotcom boom (in terms of price to sales) are almost certainly unlikely to be matched over the next 8 years. In fact, with an economic environment that looks to me to be shaping up for a stagflation situation, the worst of all worlds for high beta equities could be just around the corner.
Another interesting observation I made was that the on the daily RSI, the Nasdaq has not been as overbought since the turn of the year into the new millennia – and we all know what happened next back then – see chart below.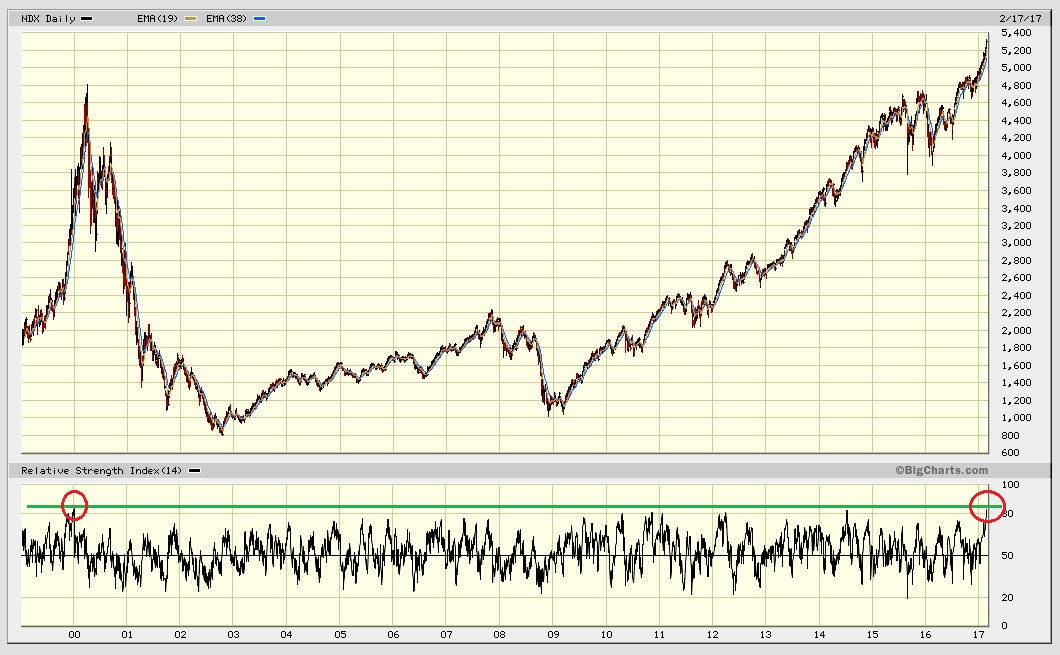 Nasdaq 18 year chart
With sentiment once more resolutely back in the Greed area of the Greed/Fear cycle (see below), the market having risen 11 out 13 days and the simply bonkers Snapchat float valuation being possibly this cycle's "top ticker", I believe that the set up for a short as we go into next week is about as good as it gets.
The sell indicators are prolific – investor complacency as evidenced by Investor newsletter sentiment, CoT positioning loaded on the long side by the so called "dumb money" speculators, put/call measures probing nadirs that are usually coincident with a sharp drawdown, the VIX at multi year lows, bond spreads at historic lows, margin debt near all time highs etc etc.. The list goes on and so there seems to be almost no room for error in the market at present. With Donald Trump in the hot seat too – who knows what is around the corner…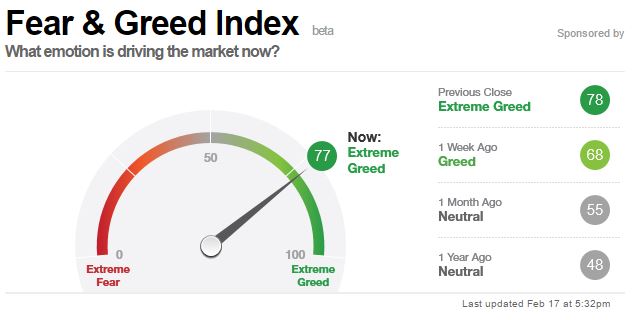 With the above in mind, Align adds another Conviction trade to our 2017 calls – with the Nasdaq Composite index at 5324 we are placing long volatility and short Nasdaq index plays into our investment mix.