Providence Resources – the year of the Porcupine?
By Richard Jennings, CFA and Mark Parfitt
2016 is the Chinese New Year of the Monkey. But recent events offshore Ireland may mean this turns out to be the year of the Porcupine, as renewed licencing activity brings the once moribund Irish offshore oil sector back into focus and definitely slays the market perception that the area is deceased.
On 11th February, while pundits raced to second guess Iran, Saudi Arabia et al, Joe McHugh, Irish Minister of State at the Department of Communications, Energy and Natural Resources (DCENR) announced that 14 new Licensing Options (LO) had been awarded in what is known as the southern Porcupine Basin.
Now, we were already aware that a large number of applications (43) had been received for the bidding round back in September 2015 but the new detail of the players entering the area makes this, to us, a big deal.
Big name majors such as Eni, ExxonMobil, CNOOC (via Nexen), Statoil and Woodside will be operators, while BP will partner with Eni. The news quite literally helicopters the oil majors back into Ireland, with seismic work slated to commence this summer (hence the early Feb LO announcement). Further licence announcements will be made by mid-May.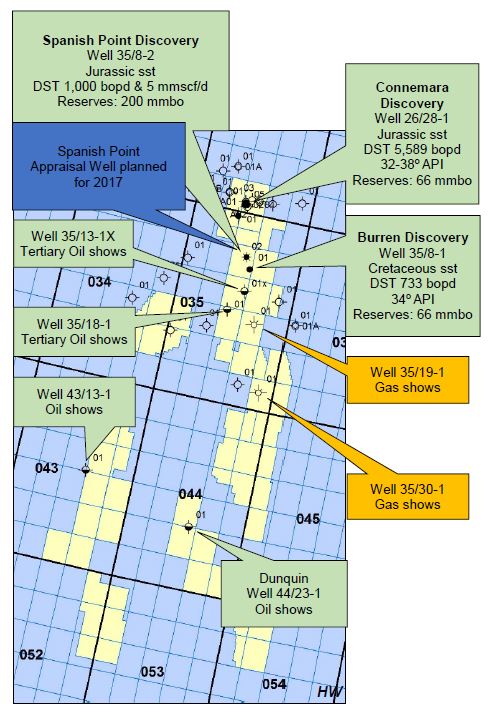 Providence Resources licence areas
The news also validates Providence Resources' (PVR) assessment after the Dunquin well of 2013 which it suggested that rather than being a straight failure, clearly demonstrates the components of a working petroleum system exist in the southern Porcupine Basin. The well was the first well to be drilled in an area the size of the Central North Sea (or 25,000 km2). So it looks to us that the well actually de-risked the basin and was both a pre-requisite and a pre-curser to current licensing activity.
We believe this also puts to bed Exxon's pronouncements that they would not be drilling in the "foreseeable future" and which echoed loudly at the time, sullying the market's view of the wider Irish offshore region, even before the decimation of the oil price over the last 18 months that has put many of these fields in question. The "foreseeable future" was, it seems, not so long…
It also gels with the heavy bidding activity for acreage in the Flemish Pass and Joan D'Arc basins – conjugate basins which were separated from the Porcupine area by the opening of the Atlantic Ocean. In 2014 some $559 million was bid for a licence by Exxon with a further $1.2 billion+ bid in November 2015 in the Flemish Pass (note Exxon's portion alone here totals over $146million). And if you look at the bidders in Canada, you'll see that the many of the same brand names now appear as new bidders in Ireland.
So where are we going with this you may ask?
The new Porcupine licencing demonstrates that, instead of being a forgotten backwater, it is set to be a nexus of activity.
Irish offshore lives!
And this indicates to us that Providence Resources, the primary player in the Irish Atlantic margin is now much more likely to get a Spanish Point farm-out in time for a well in 2017. Additionally, the ongoing exploration collaboration with Schlumberger to launch farm-outs of its Porcupine basin assets in Q1 2016 will be significantly easier to market.
So why was this ignored by the market when these announcements initially were made a few months ago? We think it is part perception and part history.
Current market sentiment is still chewing the bone that offshore is dead and buried and has not woken up to the changing situation in Ireland. Just the look at the recent Oil & Gas UK Activity Survey– and how the headliners have honed in on the doom and gloom scenarios envisaged. Yes; there are a whole host of challenges for sure, but service and infrastructure development costs are rapidly adjusting to these new realities (as they always do).
On 18th February, one week after the initial licence announcements, Providence announced that the near term company value driver that is Barryroe is still in farm out negotiations but, interestingly, that it is now being looked at as a dual oil/gas play as opposed to a pure oil play. New data has highlighted "significant productivity and resource potential" in the east of Barryroe, intersecting an oil prospecting licence (OPL) partially-controlled by Petronas-owned Kinsale Energy, which Providence has now secured an option over.
We asked CEO Tony O'Reilly Jnr to elaborate on the potential for near term monetisation of the gas assets held by PVR, and he commented, "Whilst our priority remains firmly fixed on appraising and subsequently developing the more extensive main Basal Wealden Barryroe oil resources, the recent OPL 1 option agreement has brought the overlying C-Sand gas potential very much into focus. Given the proximity of the existing nearby gas infrastructure and available capacity, we have commenced discussions with the owners of the existing infrastructure as to whether part or all of their infrastructure could play a role in accelerating any development of the Barryroe gas resources."
Underlining just how much things are changing is that drill costs are now anticipated at approximately half those priced 18 months ago. The company, intriguingly in the same market update even referenced what could be a new proposal structure for many companies in similar situations, that is a drill proposition for Barryroe "from an alliance of contractors, under a risk-sharing cost model" that is being examined was now some £16 million – this compares to some £50 million when it was drilled in 2012.
Providence will also launch a farm-out process imminently in March, for its 'Silverback' prospect in the south Celtic Sea Basin, which has been mapped as a significant Mesozoic structural closure with an associated STOIIP of 1.36 BBO.
All this is real news and it seems that the market is finally reacting to what promises to be an eventful year for Providence with the price moving from circa 11p per share to around 16p per share as we write (24th Feb 2016) and giving the company a market cap of around £22 million. At this level this values the 2P (proven and probable) reserves at just 8.8 cents a barrel, or 6.3p (calculated as $31.4416 million market cap / 358 MMBOE). This is a woeful discount to the company's peer group and is best explained due to the seeming incessant setbacks that have occurred in farming out the prized Barryroe asset.
Sentiment however provides opportunity. With a slew of news in the pipeline, potential for near-term farm out activity with a top-line industry partner on Spanish Point and Barryroe tantalizingly close to finally start drilling, we think the company could potentially triple or beyond from current levels.
Spanish Point area
As a potential investment it is not for widows and orphans, but it certainly looks to be a strong contender for a re-valuation on any firm news and if anything, our view is that it would become a meaningful a bid target given the change in sentiment in Irish offshore.
This may indeed prove be the year of the Porcupine.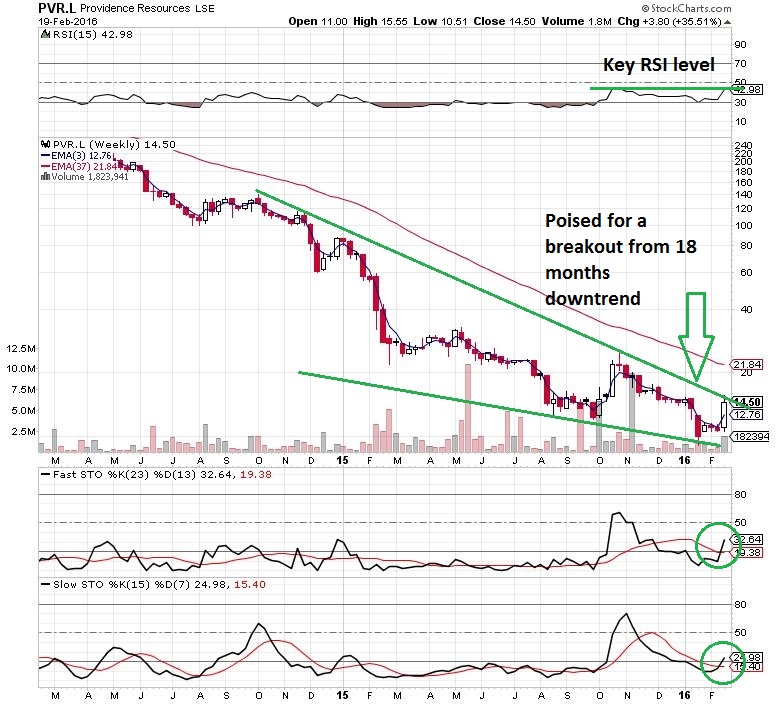 CLEAR DISCLOSURE – The author holds a personal position in the equity of Providence Resources.
Source references
1) http://www.dcenr.gov.ie/news-and-media/en-ie/Pages/PressRelease/2015-Atlantic-Margin-Oil-and-Gas-Exploration-Licensing-Round-Awards.aspx
3) http://www.bbc.co.uk/news/uk-scotland-scotland-business-35630242
4) http://www.bbc.co.uk/news/uk-scotland-scotland-business-35638620

To receive our insightful blogs as soon as they are released sign up below.