Silence Therapeutics Plc – New Conviction Buy stance
RNAi specialist with valuable embedded IP and prospective clinical trials positioned at the heart of an anticipated wave of consolidation within the sector
Silence Therapeutics is an AIM listed biotechnology company focused on the discovery, delivery and development of novel RNA therapeutics for the treatment of serious diseases with unmet medical need.
Described as being one of the most important recent discoveries in life sciences, RNAi can selectively suppress disease causing genes. It has the potential to create a new class of therapeutic products for a broad range of diseases, many of which have an unmet need.
Corporate History
Silence Therapeutics is focused on the discovery, delivery and development of novel RNA therapeutics for the treatment of serious diseases with unmet medical need. Using its proprietary RNA interference (RNAi) technology and delivery systems, the company has a strategy of creating a new generation of therapeutics to help patients and grow shareholder value.
The company has a history going back to January 1999 when Atugen AG, a German biotechnology company focused on developing RNAi therapeutics, was spun out of NASDAQ listed Ribozyme Pharmaceuticals. In July 2005 Atugen then completed the reverse takeover of AIM listed SR Pharma in conjunction with a £10 million fundraising and the business changed its name to Silence Therapeutics in May 2007 in order to reflect its increasing focus on RNAi technology. The most recent capital raise was completed in May 2015, with a gross £40 million being raised via a fundraising at 240p per share.

RNA interference (RNAi)
First discovered in the late 1990s, RNA interference (RNAi) is a highly prospective and rapidly advancing area of biotechnology concerned with gene suppression, or "gene silencing" – a process which enables the regulation of gene expression (the process whereby information from a gene is used to produce proteins and RNA). RNAi is a naturally occurring process that occurs in organisms ranging from plants to mammals and can be utilised to selectively suppress the genes which cause certain diseases. This is done by preventing the over-expression of the gene and thus reducing the production of disease causing protein.
Described as being one of the most important recent discoveries in life sciences, and one of the most exiting areas of drug discovery today, RNAi technology has made significant leaps forward over the past decade, with the 2006 Nobel Prize in Physiology or Medicine being awarded to Andrew Fire and Craig Mello for, "their discovery of RNA interference – gene silencing by double-stranded RNA".
Having attracted the attention and investment of large pharma and other smaller specialist research companies, a number of RNAi driven drugs are now moving to later stage clinical trials. However, the market remains at an early stage of development, with no RNAi based drugs having been approved to date.
How RNAi works
The nucleus of each living cell contains DNA (deoxyribonucleic acid), where specific genes and their genetic codes are stored. DNA is the blueprint for the manufacture of proteins, the building blocks of life which enable the body to function. To pass on its instructions, DNA itself does not leave the cell nucleus but instead creates a temporary copy of its genetic information. This copy is known as messenger RNA (mRNA), an RNA molecule which can leave the nucleus and transmits instructions to a cell's ribosomes, the cell component responsible for synthesizing protein.
If a gene sends out too many mRNAs (or "over-expresses" itself) a cell can produce too much of a certain protein, potentially leading to diseases such as cancer, diabetes and many others. RNAi is the method used to reduce the number of mRNAs which get translated to these disease causing proteins. It minimises the over-expression of genes – effectively turning off, or silencing (hence the name) the disease causing genes. It is this area upon which Silence Therapeutics is focused, having developed proprietary RNAi molecules and delivery systems.
When RNAi molecules are administered to patients they are absorbed into target cells. Also known as short interfering RNA (siRNA), these molecules in effect carry the "anti-code" to that of the mRNAs which are being over-produced. Once the siRNAs bind to the mRNAs the genetic code has been "interfered" with and can no longer be translated for protein production. As a result, protein production reduces, improving the diseased state.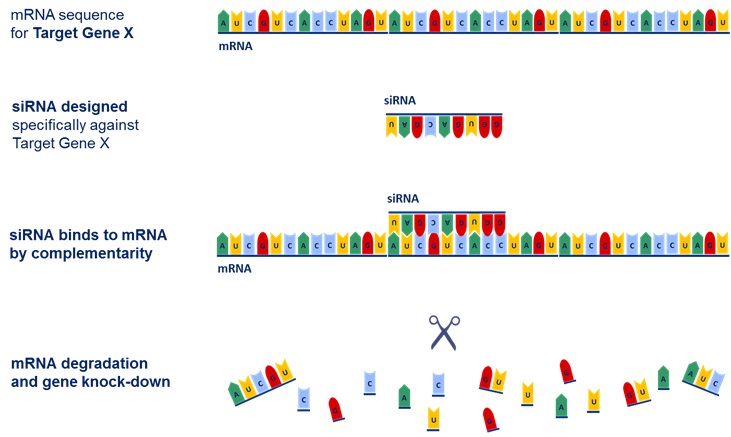 RNAi process. Source: Company
Technology
Silence Therapeutics' RNAi technology can selectively silence any gene in the genome, modulating gene expression down in a variety of organs and cell types, in vivo. The company has developed proprietary modifications to improve the robustness of RNA sequences, as well as advanced chemistries to enhance the effective delivery of therapeutic RNA molecules to target cells.
AtuRNAi® platform
The company's patented RNAi chemistry is known as AtuRNAi®, a proprietary technology with which individual siRNA molecules are stabilised against degradation within the body. It is made up of highly potent, chemically stabilised siRNA molecules which offer greater stability and better tolerability over conventional siRNA molecules. AtuRNAi® is one of the most thoroughly tested RNAi therapeutics in humans and has an excellent safety record, with over 400 people dosed so far.
Delivery systems
Delivering siRNA into the body has long been a challenge for the RNAi industry. In order to exert its effects, siRNA must be safely and efficiently delivered into the target cells within the body, penetrate the cell membrane and survive for a sufficient amount of time once inside the cell. To address this challenge Silence has developed a number of core proprietary liposomal delivery systems AtuPLEX®, DACC, HepaPLEX and MacPLEX, focused on delivering its specially modified AtuRNAi® molecules to a variety of organs.
The delivery systems are subject to various patent families extending the scope of protection to the specific composition and use of the delivery systems. With the technologies able to deliver RNA molecules to a wide variety of disease tissue Silence has the opportunity to partner with other companies working in, or looking to enter, the RNA field.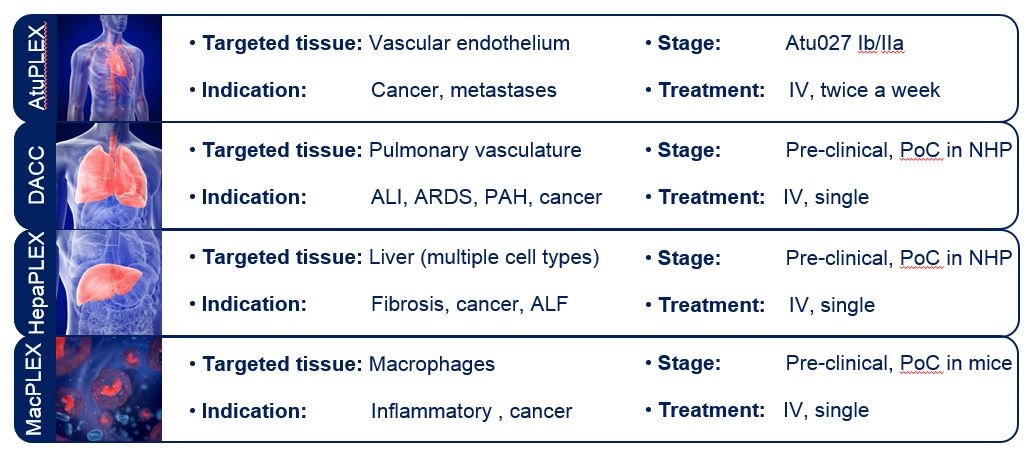 Silence Therapeutics: liposomal delivery systems. Source: Company
New technology: GalNAc
Another delivery method being worked on by Silence is "GalNAc", a highly efficient, simple and specific delivery approach whereby a sugar molecule (N-Acetylgalactosamine, GalNAc) is conjugated to the siRNA molecule.
An industry paper published in Nature Reviews, Genetics in September 2015 by Wittrup and Lieberman commented, "It is likely that they (GalNAc-siRNA conjugates) will eventually replace most therapeutic LNP (lipid nanoparticles) efforts for liver targets, as conjugated siRNAs seem to be better tolerated than LNPs, are simpler and cheaper to manufacture, and can be administered subcutaneously (rather than intravenously)".
Source: http://www.idi.harvard.edu/uploads/investigators/201509-NRG-Wittrup.pdf
It is under this backdrop that Silence decided in Q2 2015 to increase investment in GalNAc-siRNA conjugates for liver delivery. In April 2016 the company announced encouraging results from using an in-house structure, with potency observed believed to be competitive relative to peers. As a result, projects better suited to GalNAc will be transitioned to the technology, with liver therapeutics being a major focus for investment in the future. Silence believes that its lipid nanoparticle delivery systems (above) are better suited to handling larger cargos, such mRNA and for gene editing applications, with GalNAc best suited to RNAi.
Intellectual Property
Silence Therapeutics' technology is protected by a valuable patent portfolio, which strengthens its competitive position within the industry and provides opportunities for licensing its technology to third-parties.
The intellectual property surrounding the AtuRNAi® platform, in particular, is a significant potential value driver. AtuRNAi is of particular importance because, as the field moves towards GalNAc conjugation and the siRNA cargoes are exposed rather than shielded in a LNP, siRNAs must be made more stable to reach target liver cells intact and retain high potency. The IP position was further strengthened in December 2015 when a further patent (9,222,092) was granted in the US, which substantially broadened the firm's position in modified siRNA molecules.
In interim results released last September the company revealed that in the previous six months it had obtained advice from three separate law firms indicating that multiple siRNA based drugs currently in clinical development potentially fall within its issued claims. In reaction, Silence has invited the relevant companies, which have remained un-named, to enter licensing negotiations.
It must be noted however that certain parts of the core siRNA patent estate begin to expire in 2023. However, potential extensions could be granted in Europe up to 2028.
Pipeline
Supporting its IP portfolio, Silence Therapeutics has its own internally developed drug development programmes, along with a number of out-licenced programmes which use its technology. The company's headline strategy is the development of its programmes, with highly stringent go/no-go criteria applied prior to making investment decisions.
Atu027
Atu027, the company's most advanced drug candidate and the only one currently in clinical trials, uses the AtuPLEX® and AtuRNAi® technologies to target the expression of the protein PKN3 – which has been identified as having a key role in the metastatic progression of cancer. There is a high unmet need for pancreatic cancer treatments, with the disease having a five year survival rate of just 5% in England & Wales (Source: Cancer Research UK).
In April last year the company received follow-up data of its Phase 2a Atu027 study on 23 patients with incurable pancreatic cancer. The primary objective of the trial was to assess safety and pharmacokinetics (how the drug is affected by the body), with a secondary objective to evaluate efficacy, including Progression Free Survival (PFS) and Overall Survival (OS). 
The trial met its primary endpoint, with no safety issues being identified for the combination of Atu027 with chemotherapy drug gemcitabine. Silence now intends to progress Atu027 through a suitable partnership rather than using its cash resources to fully develop it itself.
Out-licensed programmes (AtuRNAi®)
In April 2005 Silence signed an option and licence agreement with Quark Pharmaceuticals giving Quark access to the company's AtuRNAi® technology. There are currently four key programmes undergoing clinical trials which could create value for Silence under the deal, in the near to medium-term, by generating milestone and royalty payments.
QPI-1002
In January 2009 Quark announced the initiation of Phase I/II clinical trials for its drug candidate QPI-1002 for the prevention of delayed graft function (DGF) in deceased donor adult kidney transplant patients. Trials of the drug (which are in partnership with Novartis and incorporate Silence's AtuRNAi® technology) have progressed well, with Phase III trials in DGF, along with a Phase II study in Acute Kidney Injury (AKI), currently ongoing. Both trials are expected to have readouts in mid-2018, which provides a potential share price catalyst.
Quark has granted Novartis an option for an exclusive worldwide license to develop and commercialise QPI-1002, which has received Orphan Drug Designation from the US Food and Drug Administration (FDA) and European Medicines Agency (EMA), along with Fast Track designation by the FDA for the DGF indication.
The DGF trial is being conducted across 90 centres in the US, Canada, Australia, South America and several European countries. Guidance for the AKI trial indicates that the study is recruiting patients from 41 centres in the US, Canada and Germany. Upon completion of these studies, almost 1,000 patients will have been treated in studies involving QPI-1002.
Settlement was recently reached over arbitration proceedings with Quark over a milestone payment under the licensing deal in relation to QPI-1002. Following the agreement Silence will now receive a $1 million cash payment and is also eligible to receive either c.2% royalties plus milestones or 15% of the clinical, regulatory and commercial milestone payments and royalties received by Quark from partner Novartis.
Stakebuilding in Arrowhead Pharmaceuticals
January this year saw Silence use its cash resources to invest, on-market, in NASDAQ listed Arrowhead Pharmaceuticals (NASDAQ: ARWR). As at 13th January a 9.21% equity stake in Arrowhead had been acquired, which will be held as an investment asset on the balance sheet. A total of $11.3 million was spent on the acquisition, equating to an average buying price of c.165 cents per share. The shares currently trade at 212 cents, giving a gain on investment to date of c.28%.
Silence's investment comes following its May 2015 fundraise, subsequent to which the company has been looking at a number of RNAi assets within both listed and unlisted companies. Proving further value creating opportunities, Silence has stated that the investment in Arrowhead is a precursor to potential future deals which could include product licensing, R&D collaboration, technology sharing or a potential corporate transaction (although no talks over a transaction are in progress at present). 
Silence Therapeutics' stake building comes in the midst of a difficult time for Arrowhead in terms of its perception amongst investors and operational performance, the shares having fallen from just over 800 cents in August last year to their current levels of sub-200 cents. This was primarily a result of Arrowhead making the decision at the end of November to discontinue all three of its clinical programmes which utilised the firm's proprietary delivery vehicle EX1.
The main reason for the discontinuation, along with a 30% reduction in the workforce, came after regulator, the Food & Drug Administration, forced the company to place on hold its study of chronic hepatitis B virus candidate ARC-520, which used the EX1 delivery system, following the deaths of non-human primates in toxicology studies. Arrowhead is now focusing its resources on programmes which utilise its new proprietary subcutaneous (subQ) and extra-hepatic delivery systems.
In November last year Arrowhead received $42.5 million from US multi-national biopharmaceutical company Amgen Inc., with whom a deal was signed in September giving Amgen a worldwide, exclusive license to develop and commercialise Arrowhead's cardiovascular drug candidate ARO-LPA. Crucially, the current pre-clinical programmes, including as ARC-LPA and ARC-AMG1, which are partnered with Amgen, are not affected by the discontinuation decision.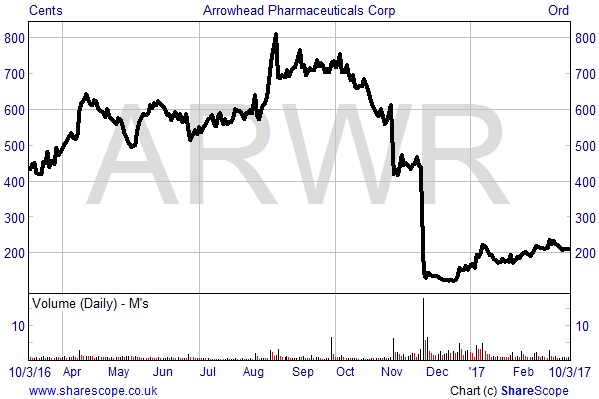 Arrowhead Pharmaceuticals 1 year share price performance
Valuation
Silence Therapeutics shares currently trade at 89p, capitalising the company at £62.1 million. With the last reported cash figure (£47.59 million at as 30th June 2016) being 8 months old, we estimate, based upon R&D and admin expenses being maintained at levels seen over the prior 18 months, and accounting for the transaction in Arrowhead shares, that cash plus available for sale investments (ARWR) currently stand at c.£43 million. Thus, the markets are valuing the business, which incorporates the valuable intellectual property portfolio and programme of clinical trials, at just £19.1 million. 
We believe the current valuation is wrong for a number of reasons:
– Potential market size. Analysts at Mordor Intelligence expect the global market for RNAi technology to be $12.56 billion in 2016, rising to $31.52 billion by 2021, equating to a CAGR of 20.19%. Researchers at Roots Analysis believe the market is likely to be worth $18.6 billion by 2030 and that the overall opportunity could be much higher.
– Negative investor sentiment towards the RNAi sector presents buying opportunity. As we have discussed above with Arrowhead, companies involved in the RNAi sector have seen a number of setbacks in recent months. Share prices amongst RNAi companies have plummeted, including a c.70% fall over the past 18 months for Alnylam Pharmaceuticals (ALNY:NASDAQ) after the company announced the halting of several clinical trials. Shares in Dicerna Pharmaceuticals (DRNA:NASDAQ), which is being sued by Alnylam for "trade secret misappropriation", are down by c.90% in just under two years and are currently trading at below cash. There is no negative read-across from any of these events to Silence's technology or activities in our view. Thus, we believe that the present environment provides investors an opportunity to enter this highly prospective sector at a time when valuations are at the bottom of the cycle.
– Potential for corporate activity. In our view, Silence Therapeutics' current valuation should put the company on the radar of a number of potential suitors, whether they be in the RNAi field already or looking to enter the sector by buying a valuable portfolio of RNAi technology.
We note the comment from CEO Ali Mortazavi in the last set of half year results – "Recent legal advice in regards to our IP has further increased our confidence that this element of our business alone could represent a significant proportion of the current market capitalisation of the Company." The stock price when this comment was made was approx 130p.
Silence's current enterprise value should prove to be no problem for larger pharma industry players to pay. In particular, we note that Alnylam, largely considered to be the market leader in GalNAc technology, had cash & marketable securities of $1.04 billion as at 30th September 2016.
We open coverage of SLN with a Conviction Buy recommendation and believe as newsflow emerges over the next 12 months that there could be a return of multiples of the present price and the very real possibility of being acquired. At the current price of 89p there is material assymetric skew offered to investors with downside cushioned by the cash pile whilst in contrast, in our view, no reflection in the price of a number of upside catalysts.
CLEAR DISCLOSURE – The author, who is a Director of Align Research Ltd, holds a personal position in SLN and is bound to Align Research's company dealing policy ensuring open and adequate disclosure. Full details can be found on our website here ("Legals")