Strat Aero – fundamental reappraisal of prospects following landmark contract win
Investors in Strat Aero (AERO) were prompted to take a fresh look at the company last week as it announced that subsidiary Geocurve had won the largest contract in its history. For a company that has had its fair share of difficulties since listing on AIM in November 2014 this was a welcome piece of news.

Many investors will already be familiar with the story but for those who aren't here is a potted history.
Strat Aero is focused on providing products and services to the rapidly growing Unmanned Aerial Vehicle (otherwise known as drones) sector. It operates via several divisions which provide services including consulting, pilot training, aerial surveys, data analytics and surveillance, along with software and hardware for clients. In management speak it thus provides products "across the value chain".
Recent years have seen UAV technology advance to the point where the use of drones is becoming increasingly widespread and further expected to grow strongly across a range of different industries. Technological advances have made UAV's cheaper to produce, more readily available and more reliable in terms of operational performance. As a result a huge market opportunity has opened up, one which Strat Aero is aiming to take advantage of.
To give just a couple of numbers, the AUVSI Economic Report 2013 estimates that global commercial and military applications will grow to a value of more than $82.1 billion between 2015 and 2025, with the global airborne Intelligence, Surveillance and Reconnaissance market estimated to grow to $19.23 billion by 2023.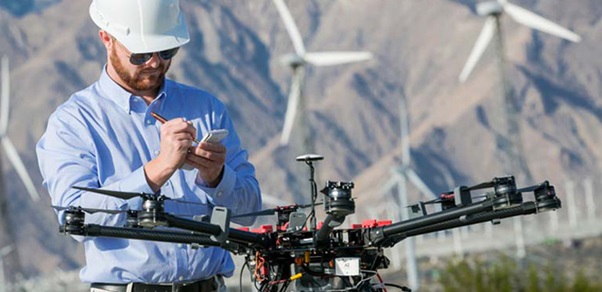 Testing times
Shares in Strat Aero closed their first day of dealings on AIM at a price of 13.5p per share. However, since then a number of issues have arisen, causing the shares to drop to the current 0.65p.
Litigation – in December 2015, as part of its expansion strategy, Strat Aero bought a US based UAV technology business, Aero Kinetics, for $1.2 million. However, things soon turned sour. In April this year the company then filed a legal action in Texas against Aero Kinetics' vendor, a Mr. W. Hulsey Smith, on counts of fraud and breach of contract. These arose from alleged misrepresentations made by Smith upon which terms of the deal were agreed. Several days later Smith sent a defence and counterclaim to the company.
Strat Aero has expectedly put on record that it intends to vigorously pursue its claims against Smith and that it believes his counterclaims and defence are without merit. The court date has been set for October this year, unless settled before.
Management changes – perhaps not coincidentally, at the same time as the legal action was announced Strat Aero revealed the resignation of its CEO Tony Dunleavy with immediate effect. He was replaced by Iain McLure, who has 20 years' experience in senior management, in order to review the company's strategy and get the business back on track.
Disappointing trading – accounts for the year to December 2015 showed a statutory loss of $5.93 million. This was after writing off $2 million of goodwill on the Aero Kinetics acquisition and after administrative expenses surged by 172% to $4.2 million as commercial opportunities (many of which didn't materialise) were invested in – including a notable $1.5 million on professional and consulting fees.
Moving in the right direction
One positive event amongst the troubles has been the acquisition of UAV survey and inspection services business Geocurve, which was completed in July. The Essex based business has worked for a raft of blue-chip customers, with its pilots having more than 2,000 hours of commercial flight experience. Yesterday's contract win by the company quite rightly caught the market's attention and reminded investors of the growth potential in the UAV sector.

The deal itself is with the Environment Agency to provide aerial inspection and level survey services on the UK public body's Thames Estuary Asset Management 2100 (TEAM2100) programme. TEAM2100 is a ten year, £300 million programme focussed on refurbishing and replacing tidal flood defences in London and the Thames estuary. It is one of the UK Government's top 40 national infrastructure projects and expected to be one of the world's largest flood risk management programmes. This is a crucial project for the Environment Agency, and indeed the country as a whole, with the current system of flood defences in the Thames estuary protecting an estimated 1.25 million people and £200 billion worth of property.
The contract comes after Geocurve completed similar work for the Environment Agency at the Isle of Grain in Kent and was won after a competitive tender process. Under the deal, the company will be working as an exclusive contractor for the project's delivery partner, the engineering consultancy CH2MHill.
In terms of income, the project, which is in two stages, is expected to deliver around £1 million of revenues over the next 18 months. Beyond that, and into the second stage of the project, Strat Aero believes that there is the potential for another £1.5 million of revenues, making a total of £2.5 million possible over a period of ten years. While no details have been given on expected margins we expect that they will at least reflect the historic gross margins of Geocurve.
We believe that investors should not underestimate the significance of this deal.
As relayed above, this is the largest contract in Geocurve's history, compares against revenues of £659,384 made for the year to March 2016 and, having been won via competitive tender, shows the firm is more than able to hold its own against rival offerings in the marketplace. In CH2MHill and the Environment Agency Geocurve is working with some quality blue-chip partners who could provide some potentially transforming opportunities for further contracts.
Further traction being delivered elsewhere
The contract win followed news at the end of August that Strat Aero has agreed a Master Franchise Agreement to roll out UAV training services in Malaysia. The deal has been struck with the Limkokwing University of Creative Technology, with the initial launch planned to be at its Cyberjaya campus near Kuala Lumpur.
The training courses will help students to develop their careers as professional UAV operators, teaching details on regulation and technology, as well as practical flying skills. There is only one course expected to be held in the current year but in 2017 between 15 and 20 are targeted.  Services will be rolled out to other campuses run by Limkokwing across the world over the next two years, with Africa being a main area of focus.
Under the deal Strat Aero will instruct the university's trainers, provide training manuals and accreditation services. Income will be earned via initial setup fees and by taking a percentage of student fees. In 2016 revenues are expected to be minimal at around $50,000 but should grow meaningfully over time as the courses are rolled out.
This followed news that the company had been granted National Qualified Entity (NQE) status by the UK's Civil Aviation Authority. This is significant as in order to apply for a UAV pilot's licence individuals need to have trained at an NQE certified centre.
Nominal market cap reflecting litigation risks but recovery potential apparent
While Strat Aero must, in the first instance, address the unwelcome litigation over Aero Kinetics, the flow of positive news over the past few weeks suggests to us that management are not allowing themselves to be too distracted by other matters, and that they are focused on advancing the business. We expect many other opportunities to present themselves over the coming months in a sector which is expected to deliver strong growth over the next few years.
Of course many challenges remain before shares in Strat Aero will be significantly re-rated by the markets. The unaudited cash position as at 30th June was c.$286,000 although this was boosted by a £370,000 (gross) placing at the end of August. The litigation does create a near term strain on resources, both financial and management, with the potential for it to drag on through the Texan courts over the balance of the year although management, at the time of writing, expect it to be heard in October. However, as the recent placing pays testimony to – some investors see value in the stock around the current levels and it is clear that the markets are pricing in a worst case scenario at this point. If the company wins the case and is awarded damages from Hulsey Smith (although receiving them could be another issue) it would put a line under both management time spent on this matter and also the professional fees in defending it as well as avoid any further cash outflow to Smith. We believe a positive outcome would very likely be a major catalyst for a re-rating of the company in re-pricing it from bankruptcy risk to one with a positive growth profile in a growing industry and, based on the evidence of the recent placings, would likely find fresh equity providers.
With the current share price of 0.65p capitalising Strat Aero at just over £2million there could be long-term growth potential should the company manage to successfully deliver on its strategy albeit one where the risks currently remain high.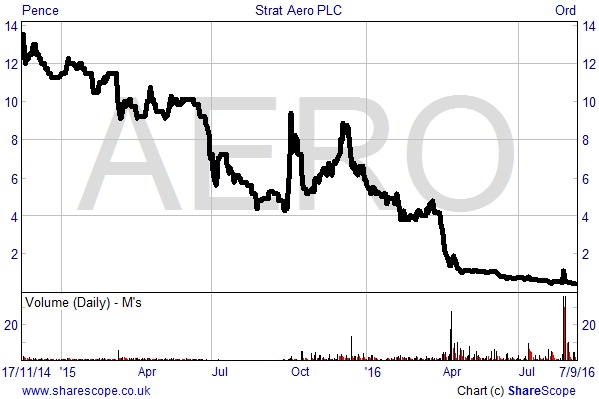 CLEAR DISCLOSURE – Strat Aero is a research client of Align Research. Align Research holds an interest in Strat Aero. Full details of our Company & Personal Account Dealing Policy can be found on our website http://www.alignresearch.co.uk/legal/