Alba Mineral Resources valuation conundrum – part (2)

We last wrote about Alba Mineral Resources HERE in which we pointed out the monumental valuation disjoint between the market caps of Blue Jay Minerals and Alba which persists to this day.
In this blog piece we will now highlight the additional Sum of the Parts (SOTP) discount between UK Oil & Gas (UKOG) and Alba in the Horse Hill and Brockham oil and gas projects in the Weald basin in Surrey.
There has been a lot of scepticism surrounding the real economic potential in the Weald basin not helped by the presence of David Lenigas of whom we are very, very wary of any project his name is attached to. Indeed we were a vocal voice advocating the outright shorting of UKOG stock last year when it breached 10p per share (since proven correct). That said, the market IS ascribing value to the Weald basin and as with the JAY pairs trade recommendation (which has been a stellar performer for those that took the trade) we believe there is a major opportunity presented for those prepared to dig a little deeper into the valuation discrepancies between UKOG & ALBA.
Simply, at the current market cap, UKOG is valued at just shy of £124m against an in interest in the Horse Hill licence area of 31.2% (see licence areas chart below).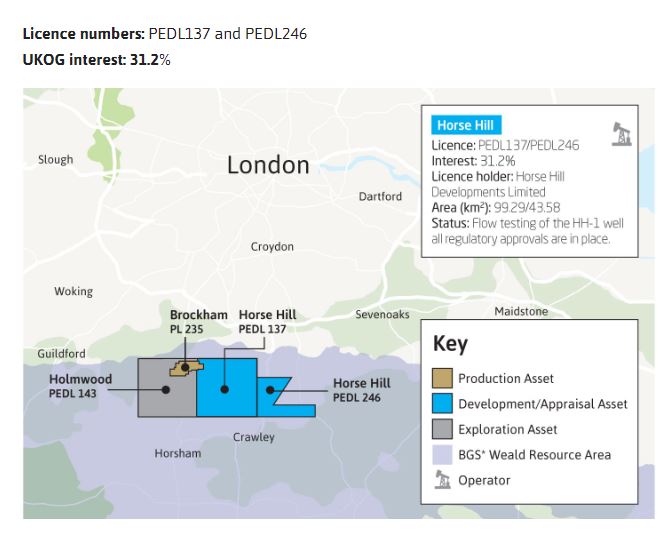 Alba in contrast with an effective interest of 11.765% is valued at just under £15m. For the purposes of this brief and simple analysis we are going to ignore the company's Greenland, uranium and gold assets (which DO have value of course). Elementary mathematics however tell us that if the UKOG valuation is correct then the value of ALBA is wrong (or vice versa). Indeed on a simple Horse Hill see through valuation the value of ALBA's stake if matching UKOG's would be £46.75m – equivalent to 1.64p per share.
We note some online commentary that ALBA may take the recent modest re-rate as an opportunity to raise further capital. We believe, based on recent management statements by UKOG and the raises carried out in March & May by ALBA that this is misplaced. Indeed, UKOG management stated explicity following the most recent raise of £2m there that they were sufficiently funded for the next 18 months – "This placing is intended for opportunistic investment to help deliver the Company's stated goal of consolidating and expanding its asset base in the Weald Basin. The placing represents an additional £2 million to the previously announced £10.5 million investment secured to deliver sufficient working capital for its core projects over the next 18 months." Given that ALBA raised a gross £1.55m in the last 2 capital raises and they have approx a one third commitment relative to UKOG's re Weald progression, we would not expect any further raise until the delivery of news on their Greenland assets which we expect to provide a catalyst for a meaningful increase in market cap and which is due before the field season ends in Greenland (likely early Sep). We also note that CEO George Frangeskides confirmed in a recent interview (see HERE – fast forward to 8 mins in) that they were full funded for their share of Horse Hill known commitments.
Coming back to ALBA's interest in the Thule Mineral Sands and we which covered extensively HERE – we note that the company's plans (reiterated in the RNS of 5 July 2018) include defining a resource estimate of significant scale (see below).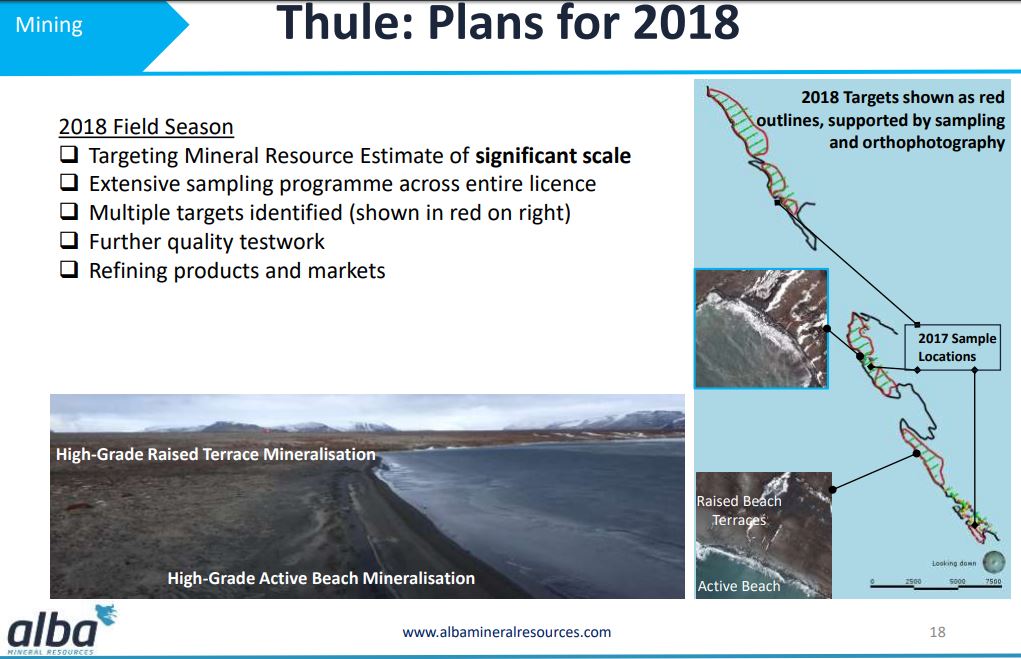 Based upon the market's previous reaction to Blue Jay's RNS's surrounding their resource at Dundas during 2017 we would expect the market at this point to finally have the "light bulb moment" and accept that either ALBA's market cap is completely wrong or JAY's is. Indeed there has been misguided commentary by JAY stakeholders that ALBA's licence area is obscured by large cliffs. The image below illustrates that this clearly is not the case and debunks this argument re the JAY valuation relative to ALBA's once again.
To conclude, at the current price of 0.52p, for those parties that believe in either the Weald basin's commerciality or the potential for Greenland to be a mining force to be reckoned with ALBA presents a very rare and unique opportunity to position for catch up in the relative valuations of their peer companies. By any stretch the stock seems to be undervalued by a magnitude of 5-10 times based on comparisons to JAY & UKOG and this completely excludes the company's other portfolio assets. We suspect the re-rating as the market has chewed through the recent placing stock has only just begun and we would not be surprised to see the stock take out its 12 month high of 0.72p and move towards a penny in the near term.  The chart below illustrates clearly the break out on volume and breach of resistance at 0.5p. We are long and looking for material gains to unfold here in the weeks ahead.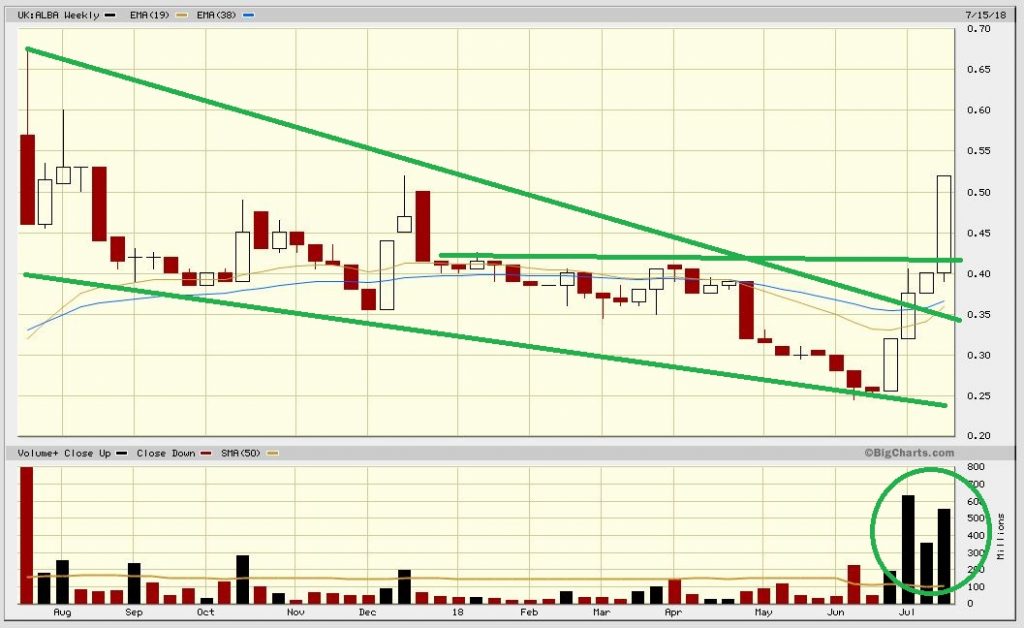 DISCLOSURE & RISK WARNING
A Director of Align Research Ltd holds a position in Alba Minerals and is bound to Align Research's company dealing policy ensuring open and adequate disclosure. Full details can be found on our website here ("Legals").
This is a marketing communication and cannot be considered independent research. Nothing in this report should be construed as advice, an offer, or the solicitation of an offer to buy or sell securities by us. As we have no knowledge of your individual situation and circumstances the investment(s) covered may not be suitable for you. You should not make any investment decision without consulting a fully qualified financial advisor.
Your capital is at risk by investing in securities and the income from them may fluctuate. Past performance is not necessarily a guide to future performance and forecasts are not a reliable indicator of future results. The marketability of some of the companies we cover is limited and you may have difficulty buying or selling in volume. Additionally, given the smaller capitalisation bias of our coverage, the companies we cover should be considered as high risk.
This financial promotion has been approved by Align Research Limited.