Milestone Group – Shares in Blockchain motor ahead as new focus on Fintech & blockchain is revealed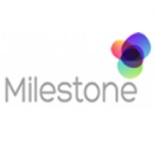 Following our recent update on the company, Milestone Group (MSG), the digital media and technology specialist, has announced a positive update to the market and elaborated on its future strategy. So far our followers are sitting on gains of over 100% and we see further drivers ahead.
The highlight of the announcement is a variation of the terms as per the company's deal with Black Cactus Holdings regarding its Nexstar joint-venture. Milestone has now entered into a new software license agreement with Envoy Group Corp (soon to be renamed Black Cactus Global, Inc.), a OTC Bulletin Board listed company, which replaces the existing JV agreement. Below is a chart illustrating that on both sides of the pond investors reacted favourably to the new strategy with Envoy rising over 60% yesterday on the news and on heavy volume.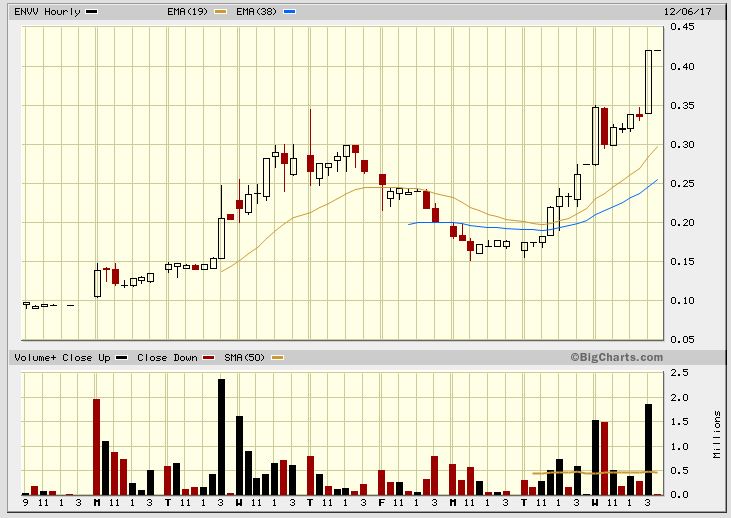 Under the new deal Black Cactus Global has granted Milestone an exclusive sub-license for the British Isles and certain British Overseas Territories for a range of products previously announced, including Backstage HD, MusicRoo, the Black Cactus Music platform, card programmes and KYC products. Crucial for growing in the booming Fintech industry, the expanded agreement also allows Milestone to use the Black Cactus Global Blockchain platform to build bespoke solutions whilst developing its own IP.
As consideration for the licenced products under the expanded agreement Milestone will issue Black Cactus Global (subject to shareholder approval) with 744,131,477 new shares, equating to 29.5% of the enlarged share capital. Milestone will also pay Black Cactus Global a royalty of 10% on the first £500,000 of gross revenues made under the deal and 5% on any gross revenues in excess of this amount.
Milestone will earn revenues from its own marketing of the licenced products as well as revenue from business introduced within the UK by Black Cactus Global. Milestone will also receive a revenue share for those introductions by Milestone to Black Cactus Global outside of the UK and a share of all other agreements made by Black Cactus Global.
Focus on Fintech
Milestone has also updated the market on its new strategy, confirming that the re-focus towards digital media and Fintech products based on Blockchain technology is almost complete and expected to be finished by the end of the year. By that time, all ties with the company's previous social and charitable activities will have ended. As such, membership of the Social Stock Exchange venture has also ceased.
As part of the recent review a number of current agreements have been looked at by the new senior management team and several have been ended due to Milestone now only focussing on those that will produce revenues within feasible timelines. Along with the charity activities, the cloud-based virtual banking and pre-paid card agreement with two London-based finance and investment companies announced in April 2016 are now not being pursued, along with the agreement with an Indian focused money transfer and pre-paid card group announced in November 2016 and a payroll contract with a UK based entertainment payroll specialist announced in October 2016.
Finally, Milestone continues to pursue the counterparty involved in last year's £1.25 million default placing (and we all know who that is) and hopes to provide an update in due course.
Shares double in two weeks
Since our last update on Milestone only two weeks ago the shares have soared from 0.27p to 0.66p as Blockchain fever continues to sweep the markets. That capitalises the company at £11.65 million at present, or £16.56 million following the issue of the new shares. Despite the price rise, we continue see the shares as an attractive way to play growth in the Blockchain industry.
The reasons behind our continued bullishness are largely two-fold: firstly, the marketplace for first movers in the blockhain tech arena as opposed to "me too" companies simply looking to piggy back on this explosive investment theme is truly massive. Black Cactus does have real blockchain IP with a suite of products ready for rolling out. This gives them a serious advantage v their competitors and, in our opinion, the possibility of being taken out by a player that is further behind the curve but that has higher valued paper.  At the current price the market capitalisation remains very low relative to other blockchain plays at just under £16m. Here is an example of what is happening in the sector ref such acquisitions.
Secondly, the issuing of stock to Envoy/Black Cactus Global gives that company (a) a platform to potentially swallow the whole of MSG should Envoy's paper re-rate at a greater rate or (b) now provide a secondary large cushion for any future capital raises by MSG together with other major shareholder Ramesh Para. The key point in having two large 50%+ (combined) shareholders with Boardroom influence is that they will almost certainly be keen to avoid dilution on onerous terms. Contrast this with many other small cap stocks where management have nominal shareholdings and so are frankly indifferent when throwing minorities under a veritable bus in maintaining salary rolls.
Finally, within the RNS there was commentary with regards to the outstanding £1.25m and an update due in the "near future". Whilst we do not hold out hope for an immediate full recovery we would not be surprised if there was some deal proposal that results in partial recovery for shareholders.
With the stock trading at 0.66p and old highs at just over 1.5p seen over 12 months ago, we are long enough in the tooth to realise that sentiment in stocks can carry prices very far. Having alerted our followers at 0.27p we anticipate material profit taking opportunities presenting themselves in the days and weeks ahead as the old placees stock gets chewed through.
RISK WARNING & DISCLAIMER
Align Research & a Director of Align Research hold positions in Milestone Grp and are bound to Align Research's company dealing policy ensuring open and adequate disclosure. Full details can be found on our website here ("Legals").
This is a marketing communication and cannot be considered independent research. Nothing in this report should be construed as advice, an offer, or the solicitation of an offer to buy or sell securities by us. As we have no knowledge of your individual situation and circumstances the investment(s) covered may not be suitable for you. You should not make any investment decision without consulting a fully qualified financial advisor.
Your capital is at risk by investing in securities and the income from them may fluctuate. Past performance is not necessarily a guide to future performance and forecasts are not a reliable indicator of future results. The marketability of some of the companies we cover is limited and you may have difficulty buying or selling in volume. Additionally, given the smaller capitalisation bias of our coverage, the companies we cover should be considered as high risk.
This financial promotion has been approved by Align Research Limited.